Community Memorial Hospital – Ventura Earns "Blue Distinction® Center+" Recognition for Expertise and Quality in Spine Surgery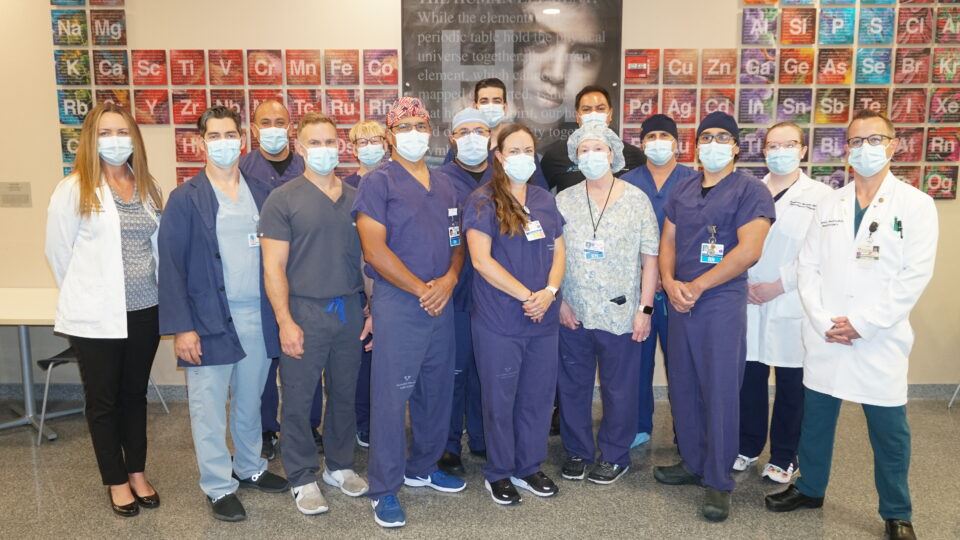 The Community Memorial spine team (pictured here) is a multi-disciplinary team comprised of nuero surgeons, orthopedic surgeons, nurses and clinical leaders, anesthesiologists, and our orthopedic nurse navigator. Pictured (L-R) are Kathryn Harada, Orthopedic Navigator, Michael Dorsi, MD, Tom Parra, Director of Specialty Operations, Chris Fosco, MD, Marilyn Harris, Director of Surgical Services, Vincent Ramirez, Neuro Coordinator, Sam Russel, Surgical Tech, Sohrab Pahlavan, MD, Melissa Weisse, OR Nurse, Antulio Aroche, DO, Sharon Cummings, OR Charge Nurse, Ben Perlstein, Surgical Tech, Ruben Garcia, Orthopedic Spine Coordinator, Katherine Wagner, MD, David Westra, MD.
The national Blue Cross Blue Shield Association has selected Community Memorial Hospital in Ventura as a Blue Distinction Center+ for Spine Surgery, as part of the Blue Distinction Specialty Care program. Blue Distinction Centers® are nationally designated healthcare facilities that show a commitment to delivering high-quality patient safety and better health outcomes, based on objective measures developed with input from the medical community and leading accreditation and quality organizations.
"We are excited to announce that we have received the Blue Distinction Center+ recognition for our exceptional spine surgery program at Community Memorial Hospital," said Community Memorial Health System Senior Vice President and Chief Operating Officer, Adam Thunell. "Meeting the rigorous criteria for this designation is a true collaboration amongst our surgeons, clinical leaders, and staff, and we are proud to offer such a high level of spine care right here in our community."
According to the Agency for Healthcare Research and Quality, spinal surgeries are among the most common and expensive elective surgeries in the United States. Facilities like Community Memorial Hospital are designated as Blue Distinction Centers for Spine Surgery demonstrate expertise in cervical and lumbar fusion, cervical laminectomy, and lumbar laminectomy/discectomy procedures, resulting in fewer patient complications and readmissions compared to other facilities. Designated facilities include hospitals and surgery centers and they must maintain national accreditation. In addition to meeting these quality thresholds, facilities designated as Blue Distinction Centers+ are, on average, 20% more cost-efficient for an episode of care compared to other facilities.
The Blue Distinction Specialty Care program has helped patients find quality care in the areas of bariatric surgery, cancer care, cardiac care, cellular immunotherapy, fertility care, gene therapy, knee and hip replacements, maternity care, spine surgery, substance use treatment and recovery, and transplants. Research for many of these programs shows that those designated as Blue Distinction Centers demonstrate higher quality and improved outcomes for patients. Community Memorial Hospital is also a Blue Distinction Center for Maternity Care.
For more information about the program, visit www.bcbs.com/bluedistinction.