Ojai Valley Community Hospital Enhances Services Despite Trend of Rural Hospital Closures
Category: Ojai
Posted On:
2019 Set a Record for Rural Hospital Closures
The city of Ojai and the Ojai Valley are known for their quaint rural charm and beautiful scenery. The Valley is a unique place, cherished by residents and tourists alike.
As a large rural area with scattered, smaller communities (the city of Ojai has about 7,500 residents and Oak View has over 4,000 alone), the Ojai Valley is similar to other rural communities across America challenged with providing top-quality healthcare locally. What makes the Ojai Valley different, however, is that it is among the dwindling numbers of rural communities with its own hospital: Ojai Valley Community Hospital, which offers an emergency room, surgical services and skilled nursing care.
This is not to be taken for granted. Rural hospitals have become an endangered species; last year was a record year for their closures, according to Becker's Hospital Review, a top healthcare industry publication. Becker's says 161 rural hospitals have closed since 2005. The reasons vary from not enough patients to an over-reliance on government payers to a shift from inpatient to outpatient care as technology improves. Many of the rural hospitals that closed last year faced reimbursement issues and said they didn't have enough patients to stay open.
The number of rural hospital closures has ramped up over the past three years and the challenges they face will not go away, said Becker's, which noted that over 600 more rural hospitals are vulnerable to closure. Their closure would mean that even more people living outside of big cities or major urban areas would have limited access to quality healthcare.
Having a hospital close to home saves lives. "This community doesn't want to lose that," said Ojai Valley Community Hospital Foundation President Steve Frank. "At the end of the day, having an emergency room and a local hospital improves the quality of life."
Why You Should Support Ojai Valley Community Hospital
It's more important than ever for Ojai Valley residents to support their community hospital, which strives to serve local needs as completely as possible and is expanding its services. This year, the Ojai hospital relaunched its surgical program and also brought in the cutting-edge ROSA Total Knee Replacement System, a new robotically assisted surgical system that enhances total knee replacement surgery.
The ROSA Total Knee Replacement System brings the most advanced joint replacement technology to Ojai Valley Community Hospital, which is the only hospital in the tri-counties offering this technology to knee replacement patients. Also this year, the Ojai hospital campus will also open a new Continuing Care Center with 75 beds — an increase of nine beds from the current center's 66.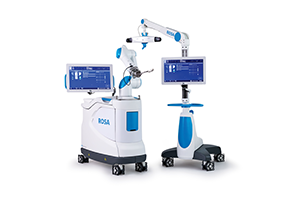 "Over the years, Community Memorial Health System, the Ojai hospital and the Ojai Valley Community Hospital Foundation have been dedicated to upgrading and remodeling the Ojai hospital campus so that it meets the needs of the community and is also regarded by many as a place where patients want to come for care," said Haady Lashkari, OVCH's Chief Administrative Officer.
The ROSA Total Knee Replacement System was purchased through a large gift from the Ojai Valley Community Hospital Foundation. This kind of remarkable community support keeps your community hospital open while other rural hospitals close.
Ojai Valley Community Hospital remains dedicated to providing Ojai Valley residents with excellent healthcare close to home and is grateful for the community's continued support. CLICK HERE to learn more about how you can support Ojai Valley Community Hospital.