NOW OPEN – The NEW Continuing Care Center at Ojai Valley Community Hospital
State-of-the-art skilled nursing center offers long-term care and short-term rehabilitative care
The new Continuing Care Center at Ojai Valley Community Hospital, a 75-bed, state-of-the-art skilled nursing facility offering short-term rehabilitative care and long-term care, is now open to patients and residents.
The new Continuing Care Center is the only skilled nursing facility in Ventura County located on a hospital campus, providing seamless and quick access to hospital services for patients if and when they need them. All physicians practicing at the Continuing Care Center are on staff at Ojai Valley Community Hospital and Community Memorial Hospital in Ventura.
"The new Community Care Center will be a major asset to the healthcare landscape in the Ojai Valley and Ventura County, and it fills an important local healthcare need," said Haady Lashkari, Ojai Valley Community Hospital's Chief Administrative Officer. "All of us at Community Memorial Health System are excited to open the center and are grateful that so many community members supported this important project."
In addition to its easy access to hospital services, Ojai's new Continuing Care Center offers on-site imaging, phlebotomists and lab services; a larger rehabilitation center offering inpatient and outpatient therapy services; and treatment programs overseen by a medical director. The expansive, state-of-the-art rehabilitation and therapy center offers physical, occupational and speech and language therapy, with all rehabilitation and therapy services provided by licensed personnel. Some of the conditions and medical issues treated at the rehabilitation center include acute and chronic pain, arthritis, balance/fall prevention strategies, brain injuries, communication troubles, joint replacement, neurological disease, orthopedic conditions, and stroke issues.
Patients and residents have the option of staying in a private, semi-private, or double room. All room floor plans include private bathrooms and showers. The center also features beautiful outdoor patios and gardens, an on-site library, hair salon, chapel, and laundry services/facilities.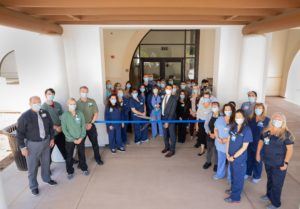 Physicians, staff, and administration from Ojai Valley Community Hospital and the Continuing Care Center celebrated the center's opening with a small ribbon cutting.
The opening of the new Continuing Care Center is the latest improvement and expansion of Ojai Valley Community Hospital, which also relaunched its surgical program late last year and brought in the cutting-edge ROSA Total Knee Replacement System, a new robotically assisted surgical system that enhances total knee replacement surgery.
For more information about the new Continuing Care Center or to schedule a tour, please CLICK HERE or call 805-948-2000.
Community Memorial Health System is a not-for-profit health system, which is comprised of Community Memorial Hospital, Ojai Valley Community Hospital, the Centers for Family Health, and various outpatient centers serving communities located within Ventura County, California.