Ventura Mom Finds Friends, Support and Tips at CMH Baby & Me Class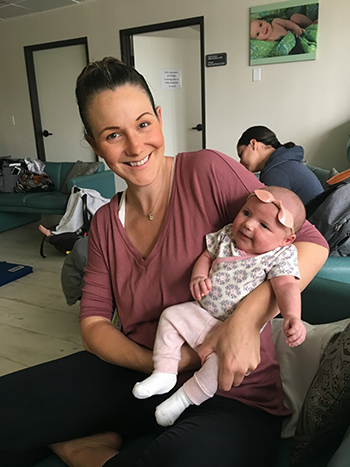 Local mom Christina Sisk says the New Parent Resource Center has been an invaluable resource after the arrival of both her children.
Two years ago, when Christina Sisk had her son Evan at Community Memorial Hospital in Ventura, the first-time mom wanted extra support and professional guidance. She took the CMHS Prepared Childbirth, Infant CPR, and Baby & Me classes and attended the breastfeeding support group to help navigate Evan's challenges with breastfeeding and reflux. For this Ventura mom, the classes were extremely helpful – so much so that Christina is now taking the Baby & me Class for a second time with her infant daughter, Erika, who was born at CMH on March 31.
Baby & Me is led by Sheila Dedrick, a Registered Nurse and international board-certified lactation consultant who manages Community Memorial Health System's New Parent Resource Center. The New Parent Resource Center offers parents a variety of resources including classes and support groups that help new parents feel less isolated, more connected, and more informed.
"Having that resource for me was monumental in getting through those first few months with my son," said Christina. "The classes were so informative. At the beginning of every class, Sheila goes around the room and has everyone introduce themselves, and asks what kind of questions people have. Sheila and the other moms give their suggestions. It's just so nice to have that support."
Christina signed up for a six-week session of Baby & Me weekly classes again with her new daughter because some of the topics have changed a little, and, "Frankly, I forgot it all," she said with a laugh. "Between the sleep deprivation and going back to work after my son was born, I looked at the topics and couldn't remember them!"
At the first class of the session on April 24, Christina told the group about the sleeping challenges she had experienced with her son. Sheila and the other moms shared good ideas and tips to help her cope better the second time around.
"The Baby & Me classes were developed with the goal of encouraging new parents to believe they have the ability to take good care of their baby and deal with any challenges that might come up," said Sheila. "If a new parent believes they can do something, then they go through the hurdles to do it and they persevere. It's very empowering."
Christina said she's glad to be getting a refresher course on infant care and development while also connecting with new moms facing similar experiences. "Just having that resource there is so unbelievably helpful. The first time I took the class I met a couple of moms that I have maintained friendships with. A lot of women do form bonds through these classes." In addition, through the NPRC classes, Christina was able to connect with a Facebook group for moms who wear baby wraps and slings.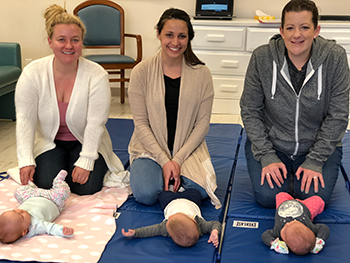 Many new parents who attend the Baby & Me classes at the CMHS New Parent Resource Center form lasting bonds and long-term friendships.
Each of the six Baby & Me classes starts with a Q&A session and parents are encouraged to continue asking questions throughout the class. The series focuses on six topics: infant intellectual development, sensory development, social development, communication development, physical development, and tactile/fine motor development. Participants also talk about other relationships and coping mechanisms. And, each week the parents receive a handout to take home with interactive activities that help parents to see their baby as a unique individual needing a customized parenting approach.
If you're interested in Baby & Me classes, CLICK HERE for dates, times, locations, and fees. Baby & Me classes are held on Tuesdays from 10 – 11:30 am, and Moms who deliver at Community Memorial Hospital may attend one class for free! For questions, email newparentresourcecenter@mycmh.org or call 805-658-BABY (2229).