From Pregnancy to Parenting: CMHS Supports Moms & Families
Delivering your baby at Community Memorial Hospital (CMH) in Ventura opens up an abundance of resources for expectant parents. From pregnancy to parenting, the support and guidance offered at CMH doesn't end after mom and baby go home from the hospital!
Expectant mothers can start their journey at Community Memorial Health System's New Parent Resource Center where support and education class are available well before checking in to the hospital to give birth. After delivery, many parents circle back to the center and join the supportive community that promotes healthy individuals and builds strong families.
Expectant moms and families who start their journeys at the CMHS New Parent Resource Center have access to an abundance of resources and support.
"Our goal is to help parents feel more confident about caring for their newborn and about parenting in general," said Sheila Dedrick, a Registered Nurse, International Board-Certified Lactation Consultant, and manager of the CMHS New Parent Resource Center. "We're here to help during all steps of early family development." Childbirth classes at the New Parent Resource Center help prepare parents for delivery and hospital labor and delivery teams provide personalized, supportive care.
"We help make sure breastfeeding moms get off to a good start, and provide lots of valuable infant-care advice after you take your baby home," continued Dedrick.
In the Hospital for Labor and Delivery
When moms-to-be check in to the new Community Memorial Hospital in Ventura, nurses trained in labor support offer a wealth of resources and assistance. Women can choose to have natural births or have epidurals, and some rooms with tubs are available for those who would like to labor in water. In-room relaxation videos are available, and guests and family members are welcome at the patient's request. After delivery, babies stay with their mom the whole time, unless they must be cared for in CMH's Level III Neonatal Intensive Care Unit (NICU).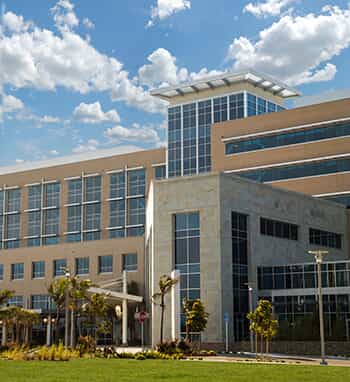 The NEW Community Memorial Hospital has an entire floor devoted to moms, babies, and children, including all-private delivery rooms with stunning views of Ventura.
"We do our best to accommodate the patient's labor and delivery wishes," said Elizabeth Russell, CMH's Maternal Child Health Clinical Educator. "We have a number of different resources and do our best to help our patients have the birth experience they want."
After moms and infants go home from the hospital, they are welcome at the New Parent Resource Center to explore the many groups and classes offered on a weekly basis. Each class offers a unique opportunity for new moms, dads, and caregivers to build relationships and feel supported in their parenting journey by a community of experienced nurses and other parents. Babies can cry, parents can cry, babies can be fed and diapers can be changed – all while moms and dads learn and share their experiences with other new parents. The New Parent Resource Center also offers private lactation consultations with board0certified lactation consultants. These consultations are available by appointment and are free to moms who deliver at CMH, or for a nominal fee if you delivered elsewhere.
Over a Dozen Support Classes to Choose From
The CMHS New Parent Resource Center currently offers over a dozen education and support classes and groups to choose from! Many require pre-registration, so call 805-948-BABY (2229) to enroll in a class today! Please note that class availability varies and class offerings change regularly. 
Prenatal Yoga: Prenatal yoga helps prepare pregnant women for a relaxed labor and birth. Fees are accepted at this drop-in class and pre-registration is not required. All supplies are provided. The class is taught by a certified yoga instructor. CLICK HERE for class dates, times and fees. Classes are held Fridays at 10 am at the center.
Childbirth Refresher Course: This two-hour class is ideal for those who previously had a baby but would like to review coping techniques, pushing, breathing and relaxation. Pre-registration is required. Call the New Parent Resource Center for dates, times and fees.
Evening Prepared Childbirth Course: These classes help soon-to-be moms and their coaches prepare for the birth. Highly trained registered nurses provide insight into pregnancy, the birthing process, the coach's role, coping techniques, recovery, pain management, unexpected labor situations, newborn care and breastfeeding. Expectant mothers attending this class should bring a single labor partner (father-to-be, a partner, friend, parent or whoever the labor coach will be ). Classes are held Tuesday, Wednesday and Thursday evenings. The Thursday evening class places an emphasis on "Natural" childbirth. The curriculum is the same, however there is an added emphasis on alternative therapies for participants who desire a natural childbirth without interventions. CLICK HERE for class dates, times and fees. Call the center to pre-register.
Weekend Prepared Childbirth Course: This class provides the same information as the Evening Prepared Childbirth Course, but condensed into one Saturday from 9 am to 4:30 pm and one Sunday from 9 am to 12:30 pm. Pre-register by calling the center.
Sibling Class: Help prepare siblings ages 2-8 for the arrival of a new baby brother or sister. Classes are held on a Sunday afternoon about every other month. CLICK HERE for class dates, times, location and fees. Pre-registration is required.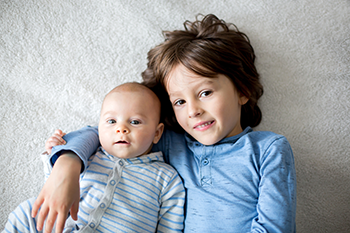 The CMHS New Parent Resource Center can help children prepare for their new role as big brother or big sister!
Baby and Me: Birth to Crawling: Learn up-to-date recommendations about infant care, infant development and ways to cope with the emotional, social and physical transitions into parenthood. Dads-to-be and partners are welcome at this class. No pre-registration required. Classes are Tuesdays at 10 am CLICK HERE for dates, location and fees.
Community Forum: Community guest speakers who are experts in their fields address topics related to babies like teething, post-partum exercise and other topics. CLICK HERE for topics for this class, held on some Wednesdays at 1 pm There is no charge and the class is a drop-in. Dads-to-be and partners are welcome.
Well Mama: Postpartum emotional wellness support group for new moms (drop in, no charge) that meets every Wednesday at 10 am at the center. Pregnant women, new moms and babies are welcome.
Friends & Family CPR: Learn how to make your child's environment safe, how to prevent the most common childhood accidents, and infant/child CPR and choking techniques. Please leave babies and kids at home for this class which is offered on some Saturdays. CLICK HERE for class dates, times and fees. Pre-registration is required by calling the center.
Babysitting 101: This class is for children 11 and older who want to learn infant and pediatric CPR techniques. Classes are offered on occasional Saturdays and pre-registration is required. CLICK HERE for class dates, times and fees.
Breastfeeding Support Group: Led by a registered nurse and international board-certified lactation consultant, moms can ask questions, share advice or just listen in a relaxed environment. Drop in and no fee. This group is for moms only and meets on Thursdays. Call the center for class time.
A "Designated Baby-Friendly" Birth Facility
Did you know CMH has been honored by the Baby-Friendly USA organization with the prestigious international recognition as a "Designated Baby-Friendly" birth facility? Only hospitals and birth centers that offer a high level care for breastfeeding mothers and their babies achieve this honor. The international award is based on a set of tough criteria designed to set the standards for the best possible breastfeeding support for mothers and infants in the maternity setting. This includes informing all pregnant women about the benefits and management of breastfeeding, helping new moms initiate breastfeeding within one hour of birth, allowing moms and infants to remain together 24 hours a day in the mom's room, and having breastfeeding support groups or referring moms to groups after they are discharged from the hospital, among other criteria.
The New Parent Resource Center is located at 2580 E. Main St. in Suite 101. Parking is available on San Nicholas Street.