When a Cure Isn't Possible, Healing Becomes the Goal
November 3, 2022 was not a typical Thursday for the sixth floor nursing and Palliative Care staff at Community Memorial Hospital — Ventura.
Michelle Pedone, a terminally ill palliative care patient, lay in her hospital bed as her team of nurse techs swiftly cleaned up her room and did her hair and makeup in preparation for a moment that was many years in the making.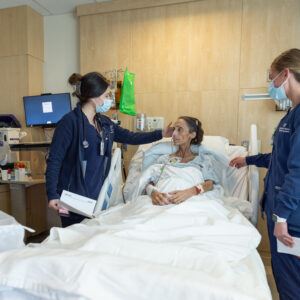 Michelle's dying wish — to marry her partner of 17 years and father of her children, Hector — was finally coming true.
"You know, this has been a long time coming. It should have been done a long time ago," said Michelle. "But life gets busy, and sometimes you put things on the back burner. Like, I'll get back to it later and so forth. Now I don't have time to put things on the backburner anymore. So I think it's a priority, and our children have always wanted it."
Michelle spent the last six months in and out of the hospital, fighting an aggressive form of colon cancer that she was diagnosed with only a year ago. She formed close friendships with her doctors and care team.
One of those doctors was Dr. Colin Scibetta, a palliative care physician with Community Memorial Health System. He grew close to Michelle during her last stay at the hospital and wanted to help make a wedding happen for her and her family.
He says palliative care is more about taking care of the patient as a whole, when curing is no longer a possibility.
"Curing Michelle was not possible, so the goal became healing," said Dr. Scibetta. "Even though we couldn't fix her disease, we could focus on what was most important to her and her husband." After 17 years together, sharing the same last name was most important to Michelle and Hector — and more importantly, their kids.
Hector and Michelle asked Dr. Scibetta if he'd officiate the wedding after he brought up in conversation that he had obtained his Justice of the Peace certificate for a friend's wedding. He gladly accepted and even accompanied Hector to the Ventura County Recorder's Office to obtain a marriage license the day before the ceremony.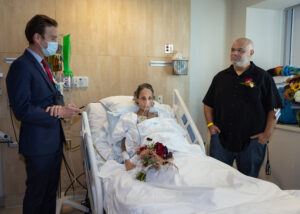 Wedding planning was underway — and the hospital really came together for the couple. Michelle's nurses even brought homemade bouquets on the day of the ceremony.
Palliative care is specialized care for patients living with serious illness, including pain and symptom management, as well as emotional, spiritual and psychosocial support. It involves a range of services delivered by a variety of staff that all have equally important roles to play in support of the patient and their family. This team often includes physicians, nurses, support staff, paramedics, pharmacists, and spiritual care providers.
"The hallmark of palliative care is meeting a patient where they are and discussing what's important for them. And many times, like Michelle's case, it's not medically-focused." said Laura Fitts, Palliative Care RN Clinical Supervisor.
The ceremony happened the next day in a packed hospital room on the sixth floor. As Dr. Scibetta describes, palliative care is about more than just the sick patient — it's about the family as a whole.
"The entire family was really our patient," said Dr. Scibetta.
That family included Michelle, Hector, and four of their five children, along with Michelle's parents, siblings, Hector's sister, and several members of Michelle's nursing team — all in attendance for the bedside wedding and celebratory cake.
"I saw nurse techs come in on their day off to do her hair and makeup, they brought pearl clips to put in her hair," said Fitts. "What was special is that originally Michelle and her husband thought it would just be the two of them and their three children, but Hector and the family managed to surprise Michelle by getting her brother in from Texas."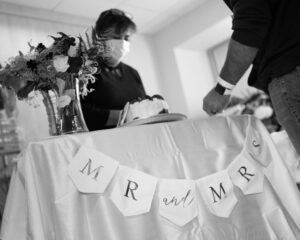 Michelle was grateful for everyone who was involved in making her wedding happen, from her nursing team and Dr. Scibetta to Father Marco Reyes, who also attended the event.
When asked about the wedding and the message she wanted to share, she left this sentiment for her children:
"My message to them is that love is love, you know. It doesn't have a timeframe. You love the person. I don't discriminate, I don't judge. And I want them to be the same way."
Michelle Garcia passed away on Nov. 13.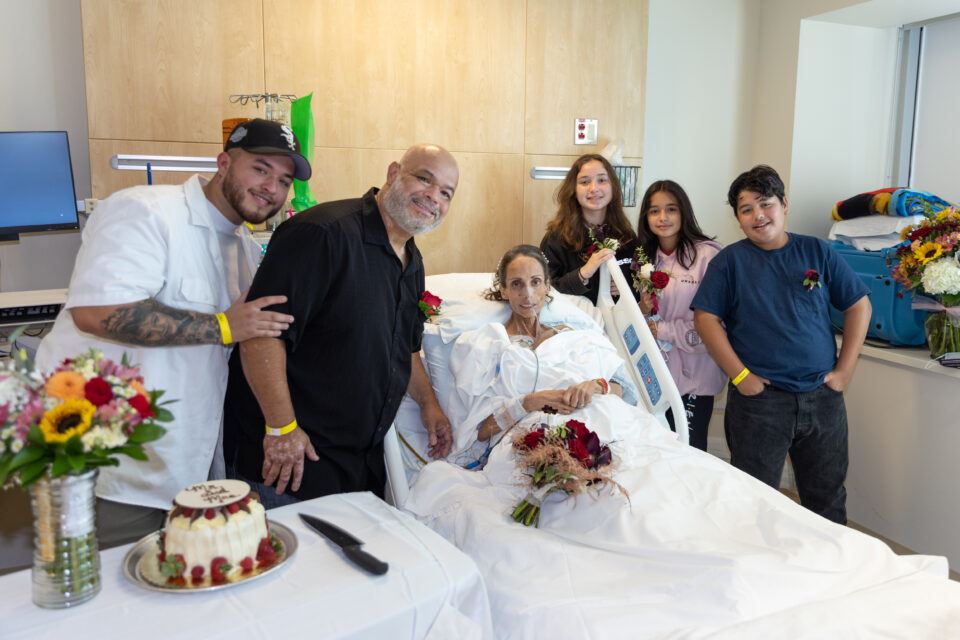 Learn more about Palliative Care services offered by Community Memorial.