CMHS Among the Leading American Internal Medicine Programs Awarded Grants to Promote More Equity in Healthcare
Community Memorial Health System will work to enhance equity and inclusion in healthcare with the help of a $5,000 grant that will fund new workshops about diversity within its Internal Medicine residency program.
"Reducing any kind of bias and building trust with each other and with our patients is critical to ensuring our healthcare system truly meets the needs of all our patients," said project leader Dr. Michelle Azimov, the Director of Medical Education for CMHS' Graduate Medical Education Program.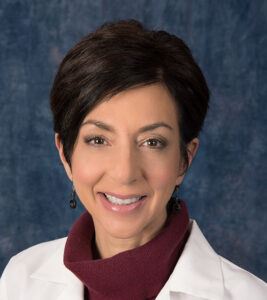 Dr. Michelle Azimov is the Director of Medical Education for CMHS' Graduate Medical Education Program.

"By discussing different forms of discrimination and bias among various groups of people, we hope to raise awareness of how these issues may be present in our hospitals so we can enhance trust, reduce bias, and create a more inclusive learning environment," she said.
Grants totaling $287,500 were awarded to 32 medical schools and training programs by five leading physician organizations: the Alliance for Academic Internal Medicine (AAIM), the American Board of Internal Medicine (ABIM), the ABIM Foundation, the American College of Physicians (ACP) and the Josiah Macy Jr. Foundation. Grants are for $20,000, $5,000 or $2,500.
CMHS applied for — and received — a $5,000 grant for a two-year-long program. CMHS explained in its application, "As educators, we share a strong commitment to promote public health, safety, and equity. Part of effectively doing so requires acknowledging and addressing structural and institutional racism and other forms of oppression within our clinical learning environment."
Reducing Bias & Discrimination in Healthcare
America's medical community is seeking to reduce bias and discrimination in healthcare, which has slowly eroded trust in the healthcare system and among healthcare providers. The physician organizations hope their grants will help address the root causes of distrust in the medical care system and among clinicians, and improve outcomes for patients in underserved communities.
According to a recent survey from NORC at the University of Chicago, 59 percent of adults say that the health care system discriminates at least "somewhat;" 49 percent of physicians agree. Black patients say they are twice as likely to experience discrimination in a healthcare facility as their white counterparts.
CMHS's Educational Workshops
CMHS seeks to foster trust and a better sense of belonging within its Internal Medicine residency program by raising awareness of bias and by teaching its staff the communication skills to recognize and reduce bias and discrimination.
CMHS will develop and host six educational Dialogues Around Diversity workshops with Internal Medicine residents and faculty, covering the issues of race/ethnicity, the LGBTQ experience, religion, gender, and intersectionality. Specialty speakers will facilitate conversations around bias and discrimination through a vignette based on their personal and/or clinical experience. A licensed clinical psychologist, Dr. Ronda Doonan, will moderate the sessions, which also will examine how racism, sexism and bias against various groups operate in CMHS' policies, practices, norms, and values.
The sessions' impact will be evaluated through a participant survey after each, and with follow-up focus groups.
About the Grant-giving Organizations
The organizations awarding the grants represent a wide range of medical professionals. The Alliance for Academic Internal Medicine represents over 11,000 academic internal medicine faculty and administrators at medical schools and community-based teaching hospitals in the United States and Canada. The American Board of Internal Medicine is a physician-led, non-profit, independent evaluation organization which seeks to establish more uniform standards and certifications for physicians. The ABIM Foundation's mission is to advance medical professionalism to improve the health care system by collaborating with physicians and physician leaders, medical trainees, health care delivery systems, payers, policymakers, consumer organizations and patients to foster a shared understanding of professionalism and how they can adopt the tenets of professionalism in practice. The American College of Physicians is the largest medical specialty organization in the United States with members in more than 145 countries worldwide. Finally, the Josiah Macy Jr. Foundation supports projects that broaden and improve health professional education.