Community Memorial Health System's Pulmonary Rehab Program Receives Recertification
Community Memorial Health System (CMHS) recently received recertification for its Pulmonary Rehabilitation Program, "Breathing Easy," from the American Association of Cardiovascular and Pulmonary Rehabilitation Program (AACVPR). This marks the third time CMHS has been awarded the accreditation.
Community Memorial Hospital – Ventura remains the only hospital in Ventura County to be AACVPR-certified, making it a vital program for the health system and Ventura County.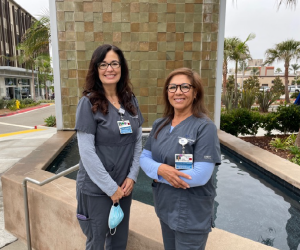 ​
Community Memorial Hospital's Juanita Trine, pulmonary rehab coordinator, and Josie Becker, respiratory therapist. CMHS's pulmonary rehab program, "Breathing Easy" was recently certified by the American Association of Cardiovascular and Pulmonary Rehabilitation (AACVPR).
"We serve patients with chronic lung disease, so C.O.P.D., asthma, pulmonary fibrosis," said Juanita Trine, pulmonary rehabilitation coordinator. "We're the only pulmonary rehab in the county, so we get referrals from all over the place. I get patients who come from Ojai, all the way down to Simi Valley."
The six-week program features exercise, education, counseling, and support for patients and their families. Patients hear from a variety of guest speakers, ranging from physical therapists, occupational therapists, dietitians, and social services.
The program is designed to enhance the quality of life to the highest possible level, maintain or improve exercise tolerance, decrease hospital days, increase each person's independence, and increase understanding of the individual's pulmonary dysfunction.
"As a respiratory care practitioner, it's a really rewarding job when they walk in, they're frightened and so breathless — and they walk out, much more confident and able to do more," Trine said. "It really is one of the most rewarding things to see."
AACVPR-certified programs are recognized as leaders in the field of cardiovascular and pulmonary rehabilitation because they offer the most advanced practices available.
"It guarantees our patients that we are following best practices, nationwide — not just locally," said Trine. "We are looking closely at outcomes so we can say, 'Yes, our patients are feeling better,' when they leave us, and we can say that with facts and figures to back us up."
To earn accreditation, CMHS's pulmonary rehabilitation program participated in an application process that required extensive documentation of the program's practices over the course of a year. AACVPR Program Certification is the only peer-review accreditation process designed to review individual programs for adherence to standards and guidelines, according to AACVPR.
AACVPR Program Certification is valid for three years.
Community Memorial Health System is proud of its Pulmonary Rehab program and for the excellent care, it provides patients across Ventura County.
To learn more about the pulmonary rehab program and eligibility requirements, visit here.