Ojai Valley Community Hospital Receives Top Ranking in Patient Satisfaction Survey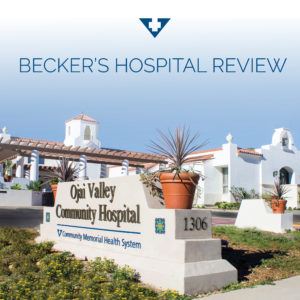 ​
Ojai Valley Community Hospital is one of only 10 hospitals in California and the only one in Ventura County to make the newly compiled list from Becker's Hospital Review of the "top-rated hospitals for patient experience."
Using scores from the Hospital Consumer Assessment of Healthcare Providers and Systems (HCAHPS), from the Centers for Medicare & Medicaid Services, Becker's compiled a list of the best hospitals for patient experience in each of the 50 states. Hospitals either received five or four-star ratings based on a list of criteria from patient surveys. Becker's Hospital Review is a major publication in the healthcare industry.
Ojai Valley Community Hospital and the other nine California hospitals on the Becker's list all received a top five-star rating. Ojai Valley Community Hospital is the only hospital in Ventura County to make the list.
"I could not be prouder of the Ojai Valley Community Hospital staff and volunteer partners who regularly demonstrate incredible skill, compassion and dedication to our patients," said Haady Lashkari, Chief Administrative Officer at OVCH. "The recognition as one of the top-rated hospitals for patient experience in the state of California is a testimony to the exceptional care that patients can expect to receive at Ojai Valley Community Hospital."
Ojai Valley Community Hospital is a 25-bed acute care hospital with an emergency room, four beds for Intensive Care patients and 21 medical/surgical beds that also can serve patients needing skilled nursing care. The hospital recently opened a new, modern Continuing Care Center (skilled nursing facility) with 75 beds.
According to the Centers for Medicare and Medicaid Services, the HCAHPS survey is the first national, standardized, and publicly reported survey capturing the perspective of patients with regards to their hospital care. While many hospitals in the past have gathered information on patient satisfaction for their own internal use, there's previously been no national standard for gathering and publicly reporting information about patients experience of care that allowed hospitals locally, regionally and nationally to be compared, the Centers for Medicare and Medicaid Services said. The HCAHPS survey allows for objective and meaningful comparisons of hospitals on topics consumers care about, it incentivizes hospitals to improve their quality of care, and it enhances accountability and transparency in the quality of healthcare, the Centers for Medicare and Medicaid Services said.
Patients discharged from hospitals are asked a series of questions on topics including communication with nurses and doctors, the responsiveness of the hospital staff, the cleanliness and quietness of the hospital environment, communication about medicines, discharge information, an overall rating of the hospital, and if patients would recommend the hospital.
We are proud of the top quality care we give our patients at OVCH and grateful for their feedback.