Prostate Health Index (PHI) Test at Community Memorial Health System Offers Enhanced Diagnostic Data for Patients and Physicians
Prostate cancer continues to be one of the leading causes of male cancer mortality in the United States. According to the American Cancer Society, 1 in 7 men will be diagnosed with prostate cancer in his lifetime. Community Memorial Health System recognizes the importance of early detection of prostate cancer, and is proud to offer the FDA approved Prostate Health Index (PHI) — a simple blood test for enhanced prostate cancer detection.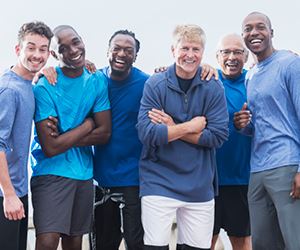 For years, Prostate Specific Antigen (PSA) testing has been the standard Prostate Cancer screening used by physicians across the country. This test measures the presence of antigens historically associated with prostate cancer and alerts physicians to elevated levels of these antigens. Patients whose PSA levels are in the 4-10 ng/ml range are typically referred for prostate biopsies, however, roughly 75% of all prostate biopsies performed are negative for cancer.
The Prostate Health Index (PHI) at Community Memorial Health System fills the diagnostic gap between PSA testing and prostate biopsy by providing an added element of specificity and detail in the testing process. If a patient's PSA is elevated, a PHI can now be administered to determine their risk of prostate cancer before a biopsy is ordered. As a result, 1 in 3 men with elevated PSA can avoid a prostate biopsy. In addition to reducing unnecessary procedures, the enhanced diagnostic data provided by the PHI will help our patients' healthcare teams create the most effective and most personalized treatment and monitoring plans for their individual prostate health needs.
If you or someone you know is interested in a PHI test, ask your primary care physician to order the test at the Community Memorial Health System lab.