Community Memorial Hospital Receives Baby-Friendly USA Designation
Baby-Friendly USA Recognizes Community Memorial Hospital as a Designated "Baby-Friendly" Birth Facility
Most people know it's ideal for a new mom to breastfeed her baby whenever possible, but how many healthcare organizations are actively working hard and making major changes to make this happen for new moms?
We can tell you one for sure: Community Memorial Hospital (CMH) in Ventura!  We are proud to announce that Baby-Friendly USA recently recognized CMH with its prestigious international recognition as a "Designated Baby-Friendly" birth facility.
Based in Albany, New York, Baby-Friendly USA, Inc. is the United States authority for the implementation of the Baby-Friendly Hospital Initiative, a global program sponsored by the World Health Organization and the United Nations Children's Fund. The initiative encourages and recognizes hospitals and birthing centers that offer high level care for breastfeeding mothers and their babies.
The designation is for five years. "CMH worked for over two years through committees to meet all the criteria and create a breastfeeding-friendly environment," said Megan Rodarte, Director of Maternal Child Health Services at CMH.
"It's not about forcing all moms to breastfeed," she explained. "We recognize that some can't or that sometimes there is a medical need for formula.  It's about creating an environment and supporting practices that have been shown to increase breastfeeding exclusivity and duration, and to give those moms who choose to breastfeed the best chances for success. It's about optimal baby feeding."
Rodarte noted that if a new mom chooses to use baby formula, CMH staff also makes sure the new mom knows how to bottle feed safely.
"We want to make sure all moms are informed so they make informed choices about the benefits of breast feeding," she said. "Our effort is to increase health benefits to moms and babies, but there are also benefits to society as a whole, such as saving money and generating less waste."
Ten Steps to Successful Breastfeeding
So, what exactly is CMH doing now that it has received this designation as Baby-Friendly for the next five years?
The international award is based on the "Ten Steps To Successful Breastfeeding," a challenging set of criteria designed to set the standard for the best possible breastfeeding support for mothers and infants in the maternity setting. CMH is doing all these things so new moms get the support they need to begin breastfeeding — and continue breastfeeding.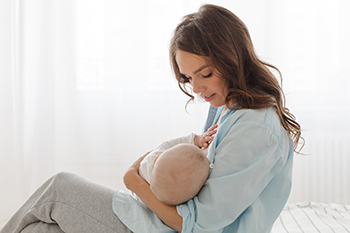 CMH follows the "Ten Steps to Successful Breastfeeding" to provide the best breastfeeding support to moms and infants in the maternity setting.
The Ten Steps Are:
Have a written breastfeeding policy that is routinely communicated to all health care staff.
Train all health care staff in the skills necessary to implement this policy.
Inform all pregnant women about the benefits and management of breastfeeding.
Help mothers initiate breastfeeding within one hour of birth.
Show mothers how to breastfeed and maintain lactation, even if they are separated from their infants.
Give infants no food or drink other than breast milk, unless medically indicated.
Practice "rooming in" or allowing mothers and infants to remain together 24 hours a day.
Encourage breastfeeding on demand.
Give no pacifiers or artificial nipples to breastfeeding infants.
Foster the establishment of breastfeeding support groups and refer mothers to them on discharge from the hospital or birth center.
"Earning the Baby-Friendly designation was a lot of hard work and everyone at CMH was on board," said Sheila Dedrick, a Registered Nurse, Board-Certified Lactation Consultant, and manager of the Community Memorial Health System New Parent Resource Center.
The New Parent Resource Center is a big part of helping new moms who are breastfeeding find the long-term support they need to continue breastfeeding. The center offers education, childbirth classes, and breastfeeding support groups, all of which Dedrick said is critical to help mothers continue breastfeeding longer. Studies show that without additional support, breastfeeding typically drops off six weeks after birth.
"Moms who continue to receive support tend to breastfeed longer," Dedrick said. "The American Academy of Pediatrics recommends breastfeeding for a year, and few moms reach this recommendation without the kind of ongoing support they can find at the New Parent Resource Center."
Community Memorial Health System's affiliated clinics also play an important role in helping Community Memorial Hospital achieve and maintain its status as a "Baby-Friendly" birth facility.  At our Centers for Family Health and Midtown Medical Group locations across Ventura County, Health Educators provide breast-feeding education, support, and resources to moms and families during pregnancy and after birth.
Comprehensive Care for Moms and Babies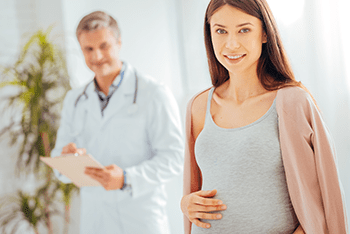 Community Memorial Health System offers comprehensive care for moms and babies ranging from pre-natal services to long-term breastfeeding support and parenting resources.
Community Memorial Health System (CMHS) provides comprehensive and continuing care for expectant mothers and babies. CMHS offers classes at the New Parent Resource Center to prepare new parents for delivery and parenthood; prenatal care with an obstetrician at the Centers for Family Health; top-quality care before and during delivery at CMH; and ongoing resources after delivery with breastfeeding support, free lactation consultations for moms who deliver at CMH, baby-care classes and parent networking at the New Parent Resource Center.
CMH is one of only 530 Baby-Friendly hospitals and birthing centers in the United States.  Worldwide, 20,000 hospitals and birthing centers have earned this designation.
The Ten Steps To Successful Breastfeeding are endorsed and promoted by America's major maternal and child health authorities, including the American Academy of Family Physicians, American Academy of Nursing, American Academy of Pediatrics, American College of Obstetricians and Gynecologists, Centers for Disease Control and Prevention, the U.S. Surgeon General, and several other groups.
Learn more about the U.S. Baby-Friendly Hospital Initiative by visiting www.babyfriendlyusa.org or emailing info@babyfriendlyusa.org.