CMHS Receives American Heart/Stroke Association Award for Outstanding Stroke Care
Community Memorial Health System is proud to announce that we have once again been awarded the American Stroke Association's Gold Plus Achievement Award and the Target Stroke Honor Roll Elite Plus Achievement Award which highlight our consistent dedication to the highest standards in stroke care. Both recognitions will be featured in US News & World Report.
Attending the award presentation ceremony at Community Memorial Hospital in Ventura were members of health system administration, the CMHS Stroke Champions, members of the CMHS Stroke Multidisciplinary Team, and American Heart/American Stroke Association Representative Ian McClellan, BSN.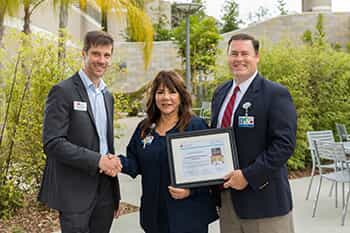 American Heart/American Stroke Association Representative Ian McClellan (L) presented CMH Stroke Coordinator Stephanie Lara Jenkins and CMHS VP of Operations Adam Thunell with a certificate recognizing the stroke awards.
In addition to these significant recognitions from the American Stroke/Heart Association, Community Memorial Hospital has been awarded the Primary Stroke Center designation from DNV GL Healthcare and the Ventura County Emergency Medical Services Agency, whose stroke certification programs incorporate elements from hospital accreditation standards as well as requirements from the Guidelines of the Brain Attack Coalition, and recommendations of the American Heart/Stroke Association. The programs emphasize deploying a disciplined management system and using clinical best practices.