Local Family Finds Refuge From Thomas Fire at Ojai Valley Community Hospital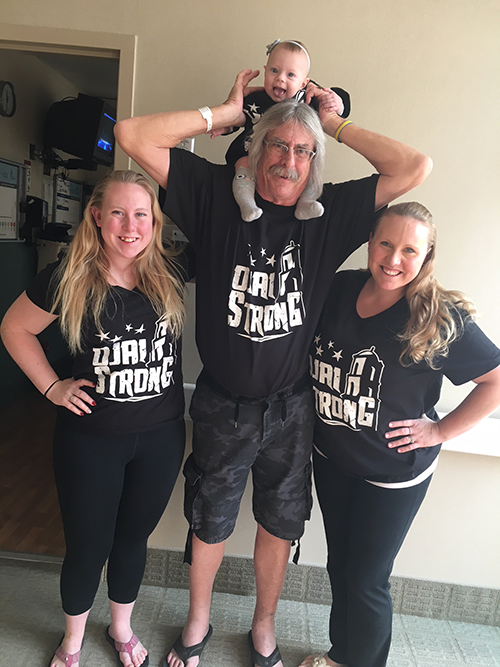 The Waugh Family (L to R): Margaret Waugh, Perry Waugh & Granddaughter Maya, and Mae Waugh Barrios.
By Emily Savage
Imagine flying across the country with your infant to be with your hospitalized father, only to end up evacuated due to the largest wildfire in California history and living alongside him in the hospital as a result.
Those are the extraordinary circumstances that Mae Waugh Barrios, her baby daughter, and her father Perry Waugh faced in December, as the Thomas Fire blazed across Ventura County while Perry was a long-term patient at Ojai Valley Community Hospital.
"Never would I have imagined that when visiting my Dad in California, it would end up being one of the biggest states of emergency that the area has ever seen, but I am so blessed and so lucky to have been able to find refuge at Ojai Hospital," says Mae. "It was one of the most terrifying experiences of my life."
Perry was a "swing" patient at OVCH from early November through December 15th, meaning he'd first arrived as a medical surgical patient but stayed longer as he still needed medical attention and wasn't quite ready to go home, often needing his wounds dressed after a battle with a near-deadly bacterial infection.
He had a room to himself, which would come into play once his 30-year-old daughter Mae and six-month-old granddaughter Maya arrived in town.
Since they live across the county, Mae and Maya were initially slated to stay at Perry's Ojai home and visit him at the hospital during the day. The plan was for Mae to help transition Perry back to his house, but that was derailed when the doctor said Perry was not ready to go home. The change of plans frustrated Mae, but it ended up being one of the best twists of fate, she says.
Because two days later, in the middle of the night, the Thomas Fire came raging toward Ojai, the power went out in her father's house, her phone stopped working, and her car was nearly out of gas. She had no place to go. Mae has lived in Massachusetts for a long time, and the only people she knew from growing up in the Ojai Valley were evacuating themselves.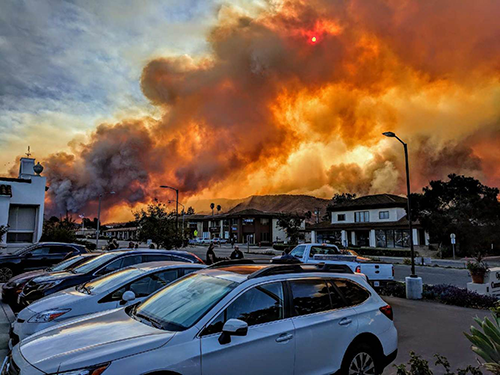 The Thomas Fire became most threatening to Ojai on Wednesday, December 6th, at which point the valley was almost completely surrounded by flames. Photo by George Morgan, taken from the front of Ojai Valley Community Hospital.
Once daylight broke, she packed up her Dad's important belongings and drove to the only place she knew to go — the hospital where luckily, her father was still staying since he hadn't been released when he was supposed to be. And there was that open bed in his room.
Mae and Maya ended up staying in Perry's room for the better part of a week. "That first day we watched as the fire came closer and closer, but at that point, I had no idea what was going to happen. I didn't know I wouldn't be leaving the hospital for the next five days!"
It was a hectic time in the hospital. Some patients were moved from the adjacent Continuing Care Center because it was slightly further from the fire. It was hard to keep it clean with all the smoke outside, there was extra staff on hand, and people were brought on gurneys into the hallways — it almost felt like a war zone. "I was going home and walked outside and saw fire trucks and went right back inside," says Theresa Minguez, one of many nurses to care for Perry during this time — the first night the fires roared into Ojai.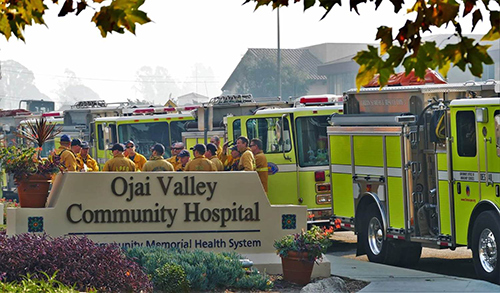 Firefighters from all over California converged on the Ojai Valley to fight the Thomas Fire. Many were staged at Ojai Valley Community Hospital, which remained secure and operational throughout the duration of the fire. Photo by George Morgan.
It was disruptive for Mae's daughter being in the hospital with so much going on all the time. It completely changed her routine, but they found ways to make it work.
Mae and Perry would stroll Maya around the hospital just to get up and move as they couldn't go outside because of the severe smoke. They did many laps around the hospital, Mae says. "It was nice for me to be able to walk around and have the baby there, she was a big hit, she makes people smile."
"It was a joy to have her with me but also to be able to share her with everyone," says proud grandfather Perry.
The hospital staff offered them cafeteria food, too, and were incredibly accommodating, says Mae. And it was there that baby Maya reached a developmental milestone and first learned to pull herself up to standing, using the railings of her shared hospital bed, which also doubled as her play area.
"Everything about his situation was uncommon," says Nurse Minguez. "The nature of his wounds, the familial situation, his granddaughter coming. They spent a lot of time here with him and they were very supportive and hands-on with his care so they could better care for him at home; they were right in the trenches with him, doing what they could."
Despite the complicated situation, everyone involved seems to have come out of the experience with a positive outlook, particularly Perry. In his months there, Perry grew close to the hospital staff and learned everyone's names, and even their kids' names. And he was so happy to be able to spend that one exceptional week with his daughter and granddaughter.
"That whole week was amazing," Perry says. "I had a great time being able to stay with my daughter and granddaughter."
Perry's house in Ojai survived the fire and he was eventually able to return home — albeit to a rather ashy situation. The house was filthy and took a while to clean up, but Perry says that he's doing fine now.
"Ojai is a very special community and this hospital is an example of the good people of the valley taking care of the neediest," Perry wrote in a letter thanking the staff after his stay. "Having come close to death, I am eternally grateful for my friends at the swing unit who brought me back to life. I had a swinging good time."