Olivia's Story: Miracle Mom and Baby Finally Home
Author: Olivia
Posted On: Jan 31, 2022
Category: Pregnancy & Childbirth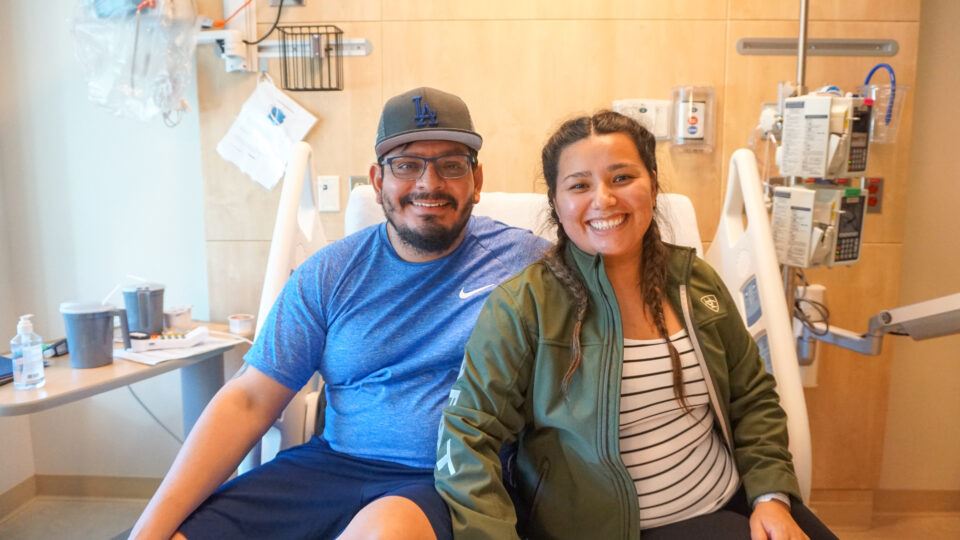 A Community Memorial Hospital patient who delivered her baby after spending ten days on a ventilator is finally home and full of gratitude for the nurses and staff who cared for her during her 27-day stay in the hospital.
Olivia Lara, 27, from Oxnard, never thought she would end up hospitalized with COVID-19 at 31 weeks pregnant. Now, after 27 days in the hospital Olivia has made a full recovery and is home with her boyfriend, Robert, and their newborn son, Roland. Looking back on their story, the family is grateful to the nurses and staff who played a role in their care.
"Let me start by saying COVID is no joke. I came in thirty-one weeks pregnant and now I have a baby," said Olivia.
On December 11th, after feeling extremely sick and monitoring her symptoms for several days, Olivia went to the Community Memorial Hospital Emergency Department. Her boyfriend Robert had purchased an at-home oximeter that showed her oxygen levels were reading as low as 80.
"We didn't want to because we knew I couldn't go in," said Robert. "But I dropped her off and what started as a day, turned into a week, two weeks, three weeks and almost a month."
Olivia was 31 weeks pregnant when she was admitted with pneumonia resulting from COVID-19. Due to her pregnancy, Olivia required a unique collaboration between the Critical Care and Labor and Delivery teams. She was assigned a 24-hour Labor & Delivery nurse for fetal monitoring of her baby. After four days, doctors decided Olivia would need to be placed on a ventilator.
Due to her COVID status and state-wide hospital visitation policies, Robert wasn't able to visit his pregnant girlfriend in the hospital — but that didn't stop him from being there for Olivia.
On the day Olivia was intubated, Robert stood outside the hospital in the parking lot and looked up to her window.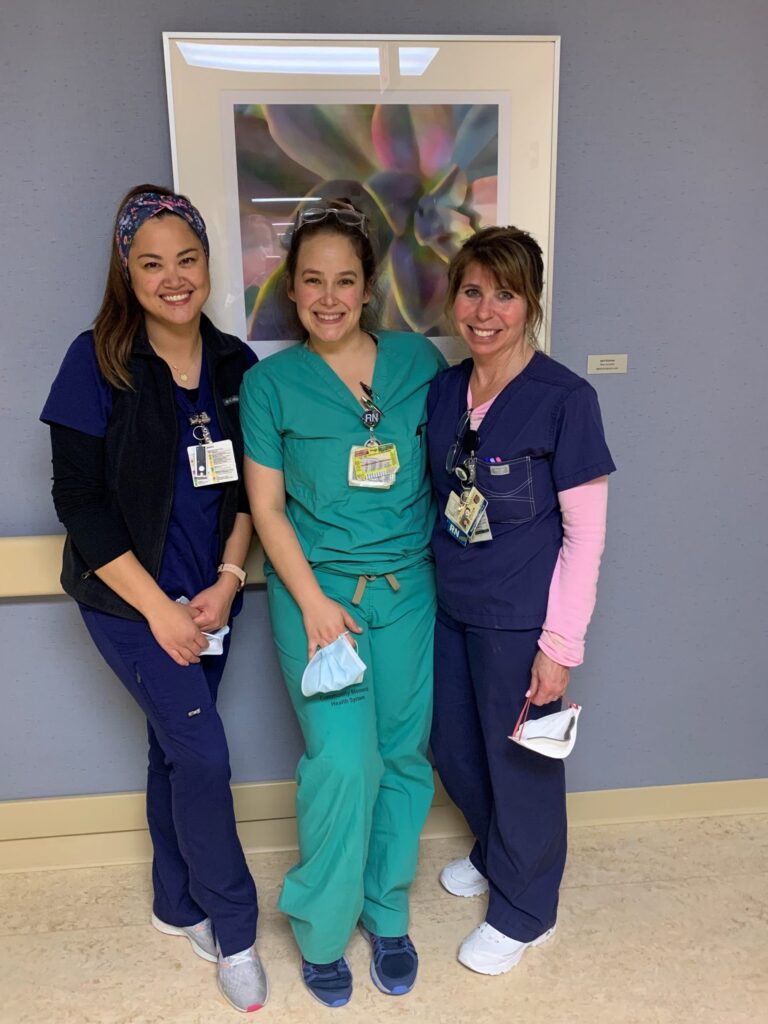 "I even tracked down her window. When she was in the ICU, I asked one of the nurses if she could just pan the phone, so I could see where she was," said Robert. "Before she got on the ventilator, I asked the nurse if she would turn the lights on and off, and she did. So I knew right where her window was. The nurse looked out, and waved at me, and I waved back. I always tried to be there, because it was hard on me. Doing that helped me. Just to know that I was that close to her, I know I wasn't in the room with her, but doing that helped me cope I guess."
Hannah Malig, RN, was Olivia's Critical Care nurse on the day that she was ventilated.
Olivia was alone in the COVID isolation room with Robert on FaceTime. Malig recalls what she says are the hardest conversations to have with COVID patients before intubation.
"One of the things we told Olivia before she was intubated was, 'Olivia, we are going to take the very best care of you, but we don't know what's going to happen after this, so tell your boyfriend everything you want to say,'" said Hannah.
Hannah also let Robert know that he could call for updates as often as he needed to, and the nurses and staff would serve as extended family since he couldn't be there to support his girlfriend and baby.
"We are always there to support the family, provide updates or information, or help them FaceTime their family members," said Hannah. "We will be there when they need us to be."
Robert stayed in close communication with hospital staff while Olivia was on the ventilator, calling 2-3 times a day to get status updates. He says that most of the nurses in the Critical Care Unit and Labor & Delivery knew him by name.
The unusual circumstances even called for Olivia's neonatal critical care team to prepare in case an emergency cesarean section was required. Fortunately, the baby showed no signs of distress.
"This has been the hardest time in my life, but it was a lot easier because of the communication with the doctors and nurses," said Robert.
Olivia and Robert are both thankful to the physicians, nurses and staff who cared for her and their baby and provided updates to Robert during the 10 days she was intubated.
"When the nurses see me, they say I'm a walking miracle to them, and I'm very blessed because of them," said Olivia. "The team here was a really good support, good help, and then Robert — he lived most of it for sure."
Robert remembers the day that he got the call from the nurse that Olivia had been taken off the ventilator.
"Christmas morning I got a phone call from the nurse," said Robert. "She said 'Robert, I have good news. We took the tube out.'"
Robert wasn't the only person celebrating the good news. Community Memorial nurses and staff involved in the care of Olivia and her baby were also celebrating this as a much-needed "win" to get them through the latest surge of COVID-19 cases.
"It felt like a big win for us, because it's been really hard lately with COVID. She is one of the few wins that we had," said Hannah. "And it was a big win because she was pregnant, so it was two people that we were able to take care of."
Nearly every department in the hospital was involved in Olivia's care, making it a true team effort.
"It's never just one person, it's a whole group effort. From the doctors, the physical therapists, to nurses, and the aids, to everyone that's working," said Malig. "It's never just one person, it's a whole collection of people working toward helping the patient get better and make it out of there. Without the team, it wouldn't work."
Next, Olivia was transferred from Critical Care to the Labor & Delivery department. There, she was reunited with Robert who brought sparkling juice to ring in the New Year.
Though her memory of those first couple weeks in the hospital is cloudy, Olivia knew her baby was strong and he would make it. Robert and Olivia are especially grateful for the care they received from Linda, a Labor and Delivery nurse who they say went out of her way to take care of their family.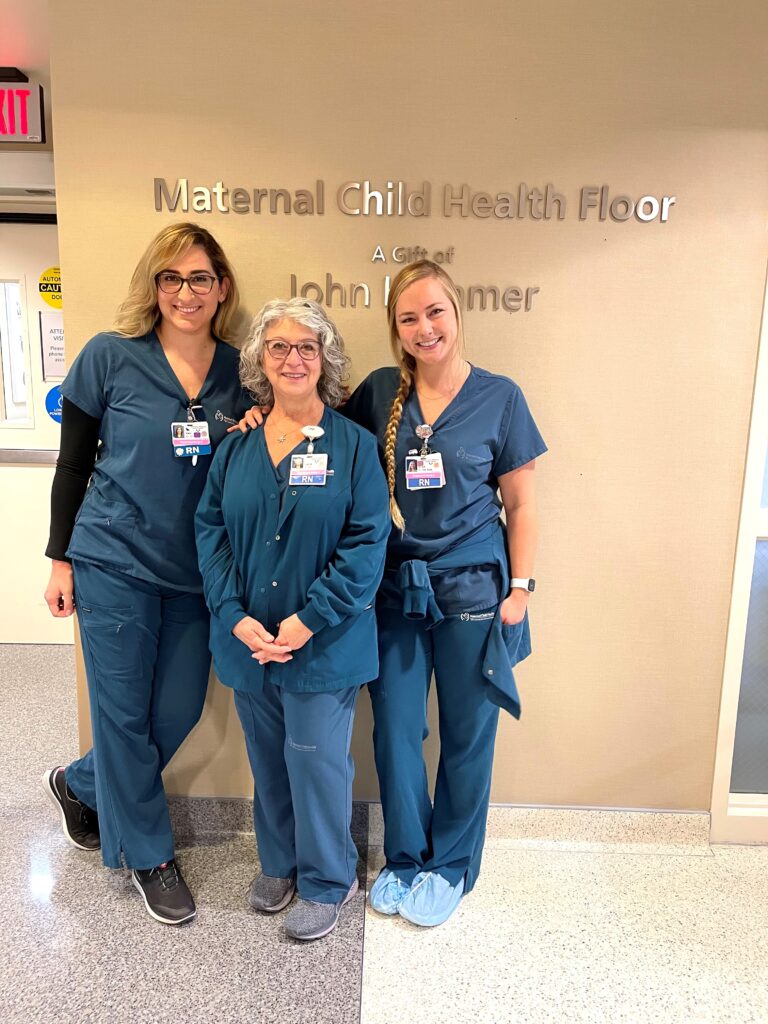 "Everybody was awesome, don't get me wrong — all the doctors and nurses," said Robert. "Everybody was awesome. But Linda went out of her way to not just do what a nurse does, but to make it personal."
Labor & Delivery nurse, Linda Dobson, was first introduced to Olivia during her early days in Critical Care, where she says she instantly felt very maternal towards her. Dobson, a labor and delivery nurse of over 44 years, worked six 12-hour shifts at Olivia's bedside, monitoring the baby.
"Once I started taking care of her, I wanted her to have continuity of care. I bonded with her from the first minute that I saw her struggling to breathe," said Linda. "I wanted to get her through it if I could."
She remembers being with Olivia on the evening before she was taken off the ventilator.
"I remember I told her, 'Merry Christmas, you're going to come off the vent today and you have to breathe because you have to give this baby a name,' Linda recalled. "And she stopped and she just looked at me, and two big tears rolled down her face. I knew she was hearing us and the baby was okay."
On the night before the baby was delivered, Linda called ahead of her scheduled shift, requesting to be Olivia's nurse when she found out that Olivia was at five cm dilated.
"I want to be her nurse," Dobson said. "Tell her to not deliver until I get there!"
In the hours leading up to the delivery, Robert says Linda was there with the couple, holding Olivia's hand alongside Robert, and getting the baby ready to deliver. When Olivia was completely dilated, she only pushed for 29 minutes before her baby was born.
"The baby came out screaming and pink, and the doctor held the baby up and the three of us just started bawling," Linda said.
Robert and Olivia's baby Roland was born on January 3, 2022 at 34 weeks old.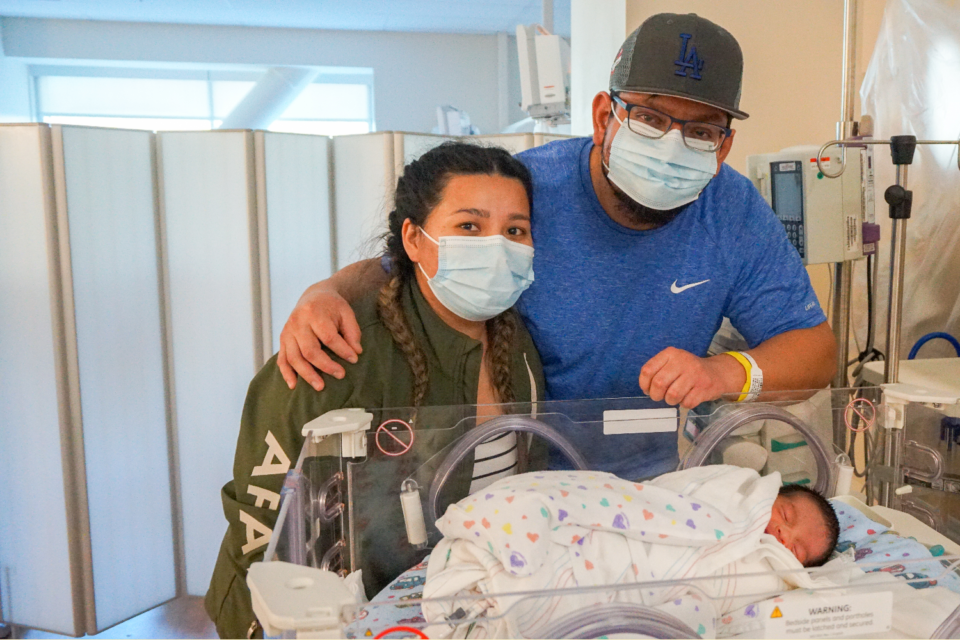 "I made it through. We have a little blessing, out of everything," Olivia said. "He made his entrance."
Roland spent a few weeks in Community Memorial Hospital's Level III Neonatal Intensive Care Unit (NICU) before being discharged on Sunday, Jan. 23. The family is at home, and finally together, with admiration and gratitude for the nurses and staff at Community Memorial.
They would especially like to thank the physicians, nurses and staff from Critical Care, Labor & Delivery, NICU, Physical Therapy, and everyone else that played a role in their family's recovery.
"This is just the beginning of the new year, the best year for us," said Olivia.