Kathryn's Story: Free At Last
Posted On: Nov 18, 2022
Category: Spine Surgery
Kathryn Kessinger was plagued with back pain for the majority of her adult life, but she could never seem to find the right time or place to have surgery.
Kessinger, 50, a Newbury Park resident, has a passion for fostering animals. She spent her time volunteering for Paw Works, a nonprofit animal rescue organization located in Thousand Oaks, until her back pain made it too hard to work with the animals.
"It was just getting to the point where if I was standing talking to somebody the pain was uncomfortable," said Kessinger. "I would have to switch positions, and then within less than five minutes, I would have to sit down. Even sitting was a struggle for me."
Over the years, Kessinger tried everything to remedy the pain. Unfortunately, the pain became unresponsive to non-surgical treatments like epidurals, spinal cord stimulators and nerve blocks. This led to a series of referrals that brought her to Community Memorial Health System's Midtown Medical Group specialty clinic, where she met Orthopedic Surgeon and spine specialist Dr. Sohrab Pahlavan.
At the time of her first appointment, Kessinger was also dealing with a meniscus tear in her left knee.
"Between my knee and my back, Dr. Pahlavan asked, 'Which one is worse?' I chose my back because it was very bad. I couldn't sit or stand," said Kessinger. "Then he told me he was going to go in there and place a spacer, and that it was going to be done robotically."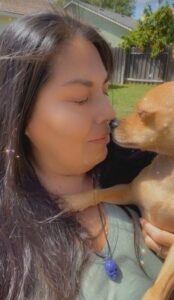 The compression of Kathryn's L5-S1 was causing the pain, as well as a great deal of numbness and tingling in her back and legs.
Dr. Pahlavan suggested a minimally invasive, robot-assisted L5-S1 transforaminal lumbar interbody fusion surgery using the ExcelsiusGPS™, a surgical robot with revolutionary imaging and GPS technology.
"Kathryn was a great candidate for this surgery," said Dr. Pahlavan. "She had a clear indication for spinal fusion with complex anatomical challenges due to prior procedures that left scar tissue."
The ExcelsiusGPS platform is a surgeon-controlled rigid arm guidance system for computer navigated placement of spinal implants. It allows for enhanced precision, safety and efficacy of spinal fusion procedures.
"The robotic platform assists us in safely performing fusion surgeries smoothly and efficiently. In Kathryn's case, it allowed us to achieve the goals of the surgery with only four small incisions."
Kathryn is grateful for the expertise of Dr. Pahlavan and her decision to have robotic surgery at Community Memorial Hospital in Ventura.
"I had a lot of negativity from certain people who said, 'No, don't do it. They're freezing your back. That's the worst thing you can do. You're not going to be able to move ever,'" said Kessinger. "Believe it or not, I literally have not had any of those problems. I'm moving great, and I have a lot of my strength back."
Less than four months after her robot-assisted surgery, Kathryn is back doing what she loves — walking her neighborhood and spending time with her animals at home — without back pain.
"I have been blessed by this surgery. I am so excited that I got it done and that I have no pain whatsoever," she said.
Kathryn is on the road to recovery, with a second surgery scheduled later this spring to address the tear in her meniscus. She is grateful to have a healthcare system that provides advanced procedures without having to leave Ventura County.
"To find somebody within a 20 or 25 mile radius has been amazing," said Kessinger. "I've enjoyed them. I would definitely refer people to them. And, like I said, I haven't been happy for a long time. It feels great to be free."
Benefits of Robot-assisted Surgery
Enhanced precision
Complex procedure done minimally-invasively
Shorter recovery times
Lower chance of complications
Less blood loss and scarring
Less risk of infection
Watch our highly trained surgical experts discuss more about the advanced robotic surgeries available at Community Memorial.