Brian's Story: Saved by Local Off-duty Doctor
Author: Brian
Posted On: Oct 19, 2021
Category: Emergency Care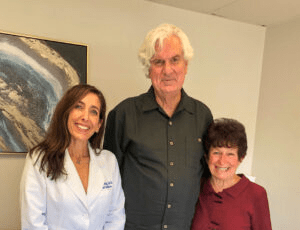 An off-duty Ventura doctor recently met up with the Community Memorial Hospital patient whose life she helped to save after he suffered a heart attack on the side of the road.
Her story echoes the importance of living and working in a community like Ventura County, and why it's important to "pull over"— because you never know whose life you could save.
Dr. Dana Jennings, with Internal Medicine of Ventura, was recently reunited with the man whose life she helped to save, and his wife, after he suffered a heart attack during a routine bicycle ride and was transported to Community Memorial Hospital in Ventura.
Dr. Jennings was riding in the car with her husband during Fourth of July weekend when her husband noticed a man lying on the ground near the intersection of Saticoy and Foothill in Ventura.
"My husband said 'Honey!' and threw the car in reverse," said Dr. Jennings. "When I arrived, he was on the sidewalk, lying on his left side and had an abrasion on his left side."
Dr. Jennings, with the help of her husband, laid the man on his back and she began to perform CPR. Initially, Dr. Jennings said she could not find a pulse. She says the man's bike was resting on a nearby light pole, his bicycle helmet was unsnapped and his cell phone was on the ground.
While doing CPR, Dr. Jennings noticed his phone ringing and asked two bystanders to answer it, and find out his name. It was his wife, Donna, on the other line, and she told them his name: Brian.
"I just kept calling your name to see if I could get you come to it," said Dr. Jennings to Brian. "I just kept talking to you during CPR."
Brian's wife Donna also recalls what happened when she saw a missed call from Brian.
"His last message was 'Donna, I'm in trouble, I need help,'" said Donna. "And that's all I heard."
She said that the bystanders who answered her phone call shared that paramedics had just arrived.
"I didn't think of a heart attack," said Donna. "I was thinking he got hit by a car."
After emergency services arrived and relieved Dr. Jennings of doing CPR, they were able to stabilize Brian and transport him to CMH in Ventura.
Upon Brian's arrival in the ambulance, Dr. Jennings called Community Memorial Hospital's Emergency Department to let them know what happened, what she witnessed, and how she began CPR.
When Donna arrived to the hospital, she said nurses led her back to where Brian was, and doctors let her know what ultimately happened — Brian had suffered a heart attack, and was headed to the CMH Cath Lab next.
"When [Brian] was out, I think they were great," said Donna, about her experience at Community Memorial Hospital. "They were so compassionate to me."
Within a few days, everyone in the health system was starting to catch wind of Brian's story, and Dr. Jennings says she felt the community rallying behind Brian and his recovery.
"This is what was so lovely," said Dr. Jennings. "A piece that's behind the scenes, that [Brian] would have no way of knowing, was while Brian was on his way to the hospital, I waited a few minutes to tell them what I saw and did …I wanted to make sure he arrived alive. And the ER doctor let me know that he had arrived and was already in the Cath Lab."
"There are absolutely no words," Donna said to Dr. Jennings. "My husband wouldn't be here if it wasn't for her. And the people at Community … the staff that I met were wonderful. They were all gracious, they let me stay in there. They were considerate. They were kind. I'm just thankful."
Brian never thought something like this would happen to him, and he's grateful for the timing of Dr. Jennings and the doctors who helped him in his recovery.
"I think it's important to have an appreciation for health, and I'm more aware of that." Brian said. "I've been eating super clean, and I walk a mile now. And now I'm trying to be as healthy as I can be."
Dr. Jennings believes Brian's story is a reminder of the community we live in.
"In Ventura, we have this special place where as a doctor, I live in the community I serve," said Dr. Jennings. "And I know the doctors in the hospital, and I know the staff, so there's this lovely rallying around. There's a sense of community that doesn't live in other places. We all have eyes on each other."
While Brian continues his recovery, he and Donna both expressed their gratitude for Dr. Jennings and Community Memorial, and they stressed the importance of annual check-ups with your doctor.
"It gives a sense of a small community and people that care," said Donna. "And my thing is that people need to get more check-ups, and that they don't avoid annual check-ups. No matter how healthy they feel."
As for Dr. Jennings, her message is simple: pull over.
"We each have a power for good, and it's important to look for places where you can step in and do good for others. And to be able to offer [Brian] something, a skill that I have, felt validating and enlivened me. We all need to pull over, as a metaphor. We need to see the space where others need us and take action."
Learn more about Community Memorial Heart & Vascular services.
Dr. Jennings is a primary care internal medicine doctor in Ventura. Together, with her partner Becky Wade, MD, they own Internal Medicine of Ventura.