Community Memorial Health System Honors Daisy Award Recipient Carmeania "Lyn" Rideaux
Community Memorial Health System is proud to announce our 2020 second quarter DAISY Award honoree: Carmeania "Lyn" Rideaux, RN II.
Created in 1999, the DAISY Award honors extraordinary nurses who demonstrate clinical expertise, provide skillful and compassionate care, and go above and beyond for patients and family members. They are recognized as outstanding role models in our nursing community.
Carmeania "Lyn" Rideaux is an RN II in the CMH Mother Baby unit. She was nominated for the DAISY Award by two patients she took care of: Shu Yu Lim and Megan Arquette.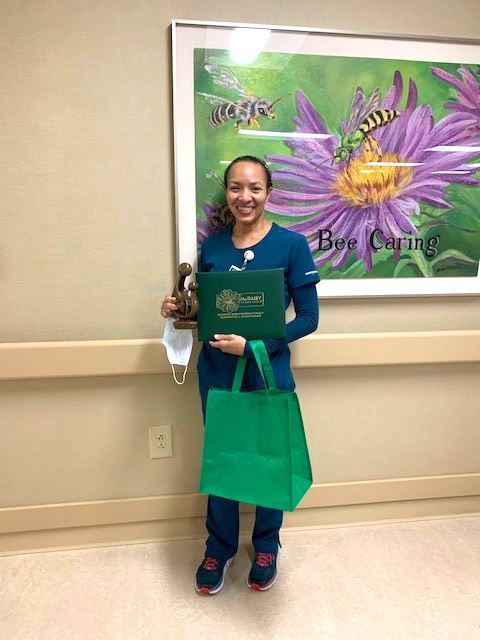 Carmeania "Lyn" Rideaux, RN receives DAISY Award in recognition for exemplary patient care.
After a long and tiring delivery, Shu Yu Lim said, "I did not have the energy to move nor care for my baby." As a postpartum nurse, Carmeania was there to support and provide care for Shu Yu Lim and her newborn baby. "I appreciated her patience and how she responded to my questions, needs and concerns." Carmeania assured her patient that she would always be there to take care of her, ending each sentence with, "If you need me for anything, please call me." According to Lim, the nurse's words were reassurance that she and her baby were in good hands.
"She was like my own mother giving me the care I needed. Especially in hard times like these when visitors are limited, the love and care was really helpful," Lim said of Carmeania. "She always came into my room with a smile on her face and never raised her voice regardless of what I had to ask her for. She was gentle when checking in on me, and was giving the same respect and treatment to my husband who was in the room with me."
Megan Arquette echoed those sentiments. Arquette praised the care her family received from Carmeania, who, Megan said, "cared for us through some hard nighttime hours."
"She was incredible: warm, kind, caring, efficient, professional, detailed, and knowledgeable," Megan said. "We slept better knowing that she was on call."
Carmeania was recently honored by the CMHS leadership, physicians, and her peers with an award presentation at Community Memorial Hospital in Ventura. Please join us in congratulating her on this incredible achievement and thanking her for her service to our patients.
If you would like to nominate an extraordinary nurse from Community Memorial Health System for providing exemplary care, please visit our DAISY Award nomination page.