CMH Grows Robotic Surgery Program with More Trained Surgeons, Top-of-the-Line Robots
CMH has the most surgeons on staff trained to use the da Vinci robot – 21 total – of any hospital located between Pasadena and Monterey! These talented surgeons are: (Back Row, L-R) David Crownover, MD, Douglas A. Woodburn, MD, Marc A. Beaghler, MD, Helmuth T. Billy, MD, Michael M. Salehpour, MD, Joseph A. Eisner, MD, Cedric B. Emery, MD, Seyed M. Khoddami, MD, Patrick McCarty, MD, Kayvahn P. Steck-Bayat, MD, Brian C. Tuai, MD, Shawn T. Steen, MD (Front Row, L-R) Anne O. Rodriguez, MD, Jennifer J. Wan, MD, Lisa E. Brand, MD, Srisawai Pattamakom, MD, Lamar J. Bushnell, MD, Edwin R. Ramirez, MD, Jill C. Hall, MD, Constanze S. Rayhrer, MD, and Michelle M. Takase-Sanchez, MD.
Community Memorial Hospital continues to grow and enhance our robotic surgery program with two da Vinci XI robots — the most advanced medical robot in use today — and an increasing list of surgeons trained to use da Vinci robots on more patients than ever before.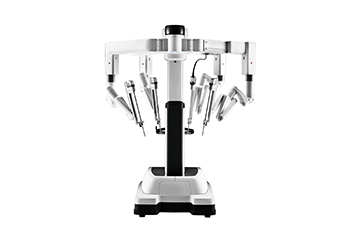 The da Vinci XI robot is the most advanced medical robot in use today. Community Memorial Hospital has two da Vinci XI robots, and performed over 500 robotic surgery cases in 2019.
Combined with the state-of-the-art technology in our surgical suites in the new Ocean Tower, CMH continues to be a forward-thinking leader in state-of-the-art medical care, including robotic surgery. CMH was the first community-based hospital between Los Angeles and San Francisco to acquire the da Vinci Surgical System and now has the most surgeons on staff trained to use the da Vinci robot – 21 total – of any hospital located between Pasadena and Monterey.
CMH surgeons perform a wide range of procedures using the da Vinci robots, including OB/GYN surgeries, general surgery, chest and lung surgery, and urologic procedures. "Our program has been in existence since 2005. With 21 da Vinci trained surgeons, we have one of the most robust programs at any community hospital in California," said Dr. Marc Beaghler, Medical Director of Robotics at Community Memorial Hospital. "We've done over 3,000 surgeries since the program started and completed 512 surgeries in 2019. With two top-of-the-line da Vinci XI robots, we expect this exponential growth to continue," Dr. Beaghler said.
Robot-assisted surgery was pioneered about 20 years ago in an effort to make surgery less invasive and less traumatic. "More and more surgeons are adopting this technology because it yields better patient outcomes," Dr. Beaghler continued.
CMH's da Vinci robotic surgery program is also helping to train the next generation of robotic surgeons in CMH's Graduate Medical Education Program. CMH uses a special da Vinci training console to train resident physicians in the General Surgery residency program, giving them the exposure and experience required to pursue robotic surgery as a specialty. CMH is one of only two hospitals between Pasadena and Monterey with the da Vinci teaching console and a graduate medical education program.
The da Vinci robot brings numerous benefits to patients, including:
Reduced trauma and scarring
Reduced blood loss and need for transfusions
Less post-operative pain and discomfort
Lower risk of infection
A shorter hospital stay
A faster recovery
Surgeons using da Vinci enjoy enhanced 3-D visualization, better dexterity, a greater range of motion, greater surgical precision, and improved access to the surgery field. CLICK HERE to learn more about the robotic surgery program at Community Memorial Hospital in Ventura.