Community Memorial Health System Awards Annual Rayman Nursing Scholarships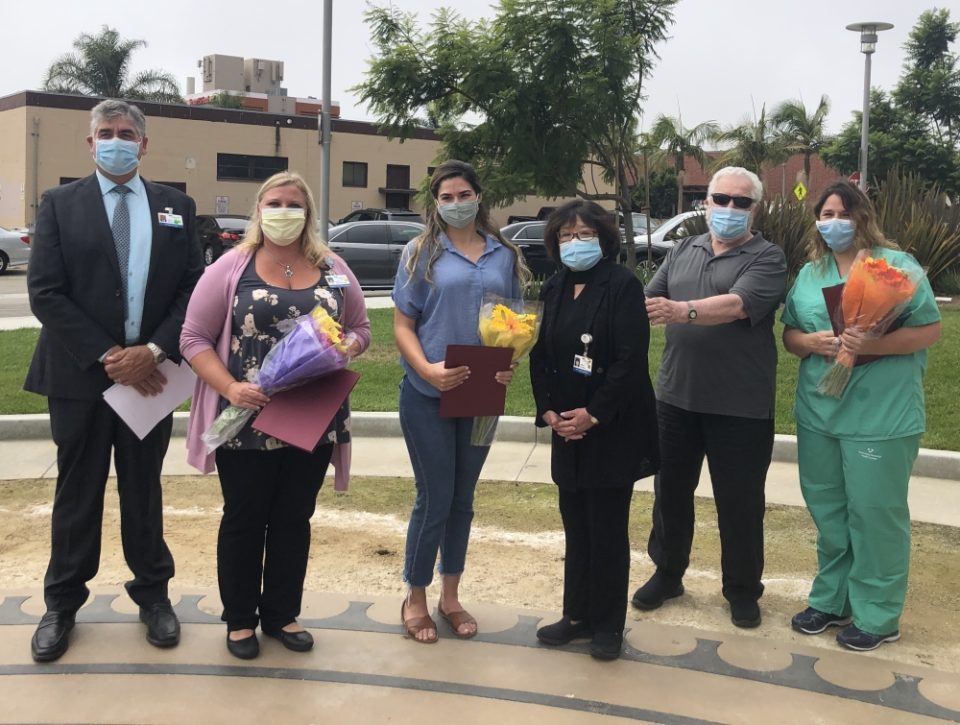 (L-R) CMHS President & CEO Gary Wilde, Laura Fitts, Jordan Heitzig, Emilie Rayman, Myron Rayman, and Jennifer Freligh.
Community Memorial Health System's (CMHS) annual Holly Rayman Nursing Scholarships were recently awarded to three dedicated nurses from Community Memorial Hospital in Ventura and Ojai Valley Community Hospital.
The Holly Rayman Nursing Scholarship fund was established in memory of Holly Rayman by her parents, Emilie and Myron Rayman, after Holly passed away suddenly on July 14, 2014. The fund annually supports three individuals who each receive $3,000 to support their continued education in the field of Nursing.
This year, Jennifer Freligh, Jordan Heitzig, and Laura Fitts were each awarded this special scholarship.
Jennifer Freligh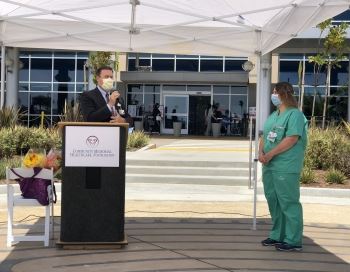 CMHS Senior Vice President of Operations Adam Thunell presented Jennifer Freligh with the Rayman Nursing Scholarship.
Jennifer Freligh has been a Registered Nurse for 24 years, working mostly as an Operating Room Nurse. As a result, she is skilled and knowledgeable in Nursing, but has also ventured into different opportunities to broaden her skills and knowledge base. In 2010, she transferred to the Pediatric Cardiac Catheterization Lab/Electrophysiology Lab/CVOR. There she had the amazing opportunity to assist in an open heart transplant, and was even able to maintain a relationship with the patient and their family after the transplant.
In 2015, she became Charge Nurse of a free-standing ambulatory surgery center. Although a challenge, this proved to be a wonderful learning experience, as Jennifer was able to use her critical-thinking skills and overcome the daily multiple obstacles in a busy surgery center. In July 2019, Jennifer became Clinical Manager of Surgery for Ojai Valley Community Hospital. She was responsible re-opening the surgical department.
Jennifer is currently enrolled in Western Governors University to obtain her BSN. She is excited to enhance her knowledge and skills and use this information to improve patient care and processes of the surgical department. Jennifer is an active member of the Ojai community, and it is extremely important to her to continue to build trust, confidence and respect for our Ojai Valley Community Hospital.
Jordan Heitzig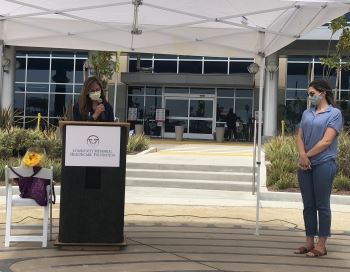 CMHS Vice President of Patient Care Services and Chief Nursing Officer Diane Drexler presented Jordan Heitzig with the Rayman Nursing Scholarship.
Jordan Heitzig has been employed with Community Memorial Health System for almost two years. During that time she has learned how to treat severely ill and injured patients, and learned to care for the daily needs of those who are the most vulnerable. The staff at CMH has supported, encouraged and challenged her to flourish in the ever-changing field of Nursing.
Jordan is working toward her Bachelor of Science in Nursing through Azusa Pacific University's online program, increasing her knowledge of the daily tasks of the nursing, and providing the best care to promote optimal health for her patients. This scholarship will help pay tuition and books needed to complete her last semester in this program.
Jordan currently works in the Intensive Care Unit (ICU) at Community Memorial Hospital. She wears that title with pride for several reasons. Jordan was enamored with the ICU because it was the most intimidating floor during Nursing school. She closely watched all the nurses that worked with such care and compassion and thought they were incredibly gifted to be able to learn and understand so much information while still giving impeccable patient care.
Jordan values what CMH represents: teamwork, caring and excellence. She is furthering her education to help promote these core values as a nurse. She will complete her Bachelors program and then plans to apply for a masters in Nursing. In addition, she will be taking Spanish classes at Ventura Community College to break down any communication barriers with patients. She will practice this and all her knowledge with pride in the halls of Community Memorial Hospital.
Laura Fitts
CMHS VP of Marketing & Development Mike Ellingson presented Laura Fitts with the Rayman Nursing Scholarship.
Laura Fitts has been an employee of Community Memorial Hospital for 21 years and a Ventura County resident for 38 years. When she was younger, she hoped to attend a university to obtain her BSN degree, but she did not have the financial support of her parents. They felt a better decision was for her to locally attend Ventura College to receive an Associate's Degree in Nursing. However, she still longed for a Bachelors education.
Laura had two daughters, one in 1997 and one in 1999. She was married, a working mother, and her education was no longer a priority. During the past 21 years, Laura worked mainly on the 6th floor med-surg oncology unit, but floated throughout the hospital to ER, Pre-Op, SPA, Telemetry, ICU, Orthopedics, Post-Partum, and even Ojai Valley Community Hospital.
Laura still wanted to further her education and attended ELNEC training for end-of-life-care. After this training, she met monthly with her fellow ELNEC-trained nurses at CMH and began a grassroots effort to bring Palliative Care to our hospital. Once Palliative Care was established at CMH, she worked for both the Med-Surg Oncology Unit and the Palliative Care team. Five years ago, she fully transitioned to Palliative Care and has worked with many patients and families on a deeper level. She furthered her education through California State University San Marcos and became a Certified Hospice and Palliative Nurse.
Once her daughters were raised and out of high school, Laura began again to feel the desire to return to school to further her education. She was able to enroll in classes with the Grand Canyon University online BSN program. Laura says she is privileged to attend classes, refine her practice, and apply much of her expanding knowledge to her everyday work.
Laura has funded her own education with the assistance of the education reimbursement program provided by CMH. The Holly Rayman Memorial Nursing Scholarship will greatly assist Laura in completing her BSN education. Her professional goals are to continue her work at CMH in the Palliative Care department and to further her education. Her personal goals will always include time spent with her family, as they are her main joy in life.
On behalf of Emilie and Myron Rayman, in memory of Holly Rayman, Community Memorial Health System is proud to award Jennifer, Jordan, and Laura this year's Rayman Nursing Scholarships. We are grateful for their dedication to our patients and our community, and look forward to supporting their growth in the field of Nursing.