CMH Babies in Little Red Hats Serve as Ambassadors for Good Heart Health
Babies born this month at Community Memorial Hospital (CMH) in the month of May are coming home with a nice little gift from the American Heart Association: a hand-knit or crocheted red beanie to keep baby's head warm and to remind families how important it is to start their little one's new life off with a healthy heart.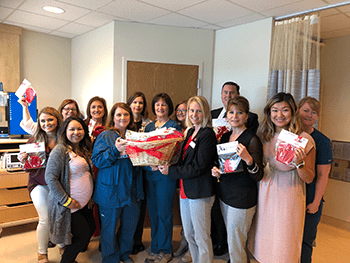 Representatives from the American Heart Association and Mission Foods visited the CMH Maternal Child Health unit on Monday May 13 to deliver the little red hats.
CMH was thrilled to partner this month with the American Heart Association for its national "Little Hats Big Hearts" program, in connection with the Children's Heart Foundation, that raises awareness of congenital heart defects — the number one birth defect. These tiny red hats, on thousands of babies, symbolize the goal of heart-healthy lives for everyone while raising awareness of congenital heart defects and how to prevent them.
"Every baby born at Community Memorial Hospital is screened for congenital heart defects," said Megan Rodarte, Director of Maternal Child Health Services at CMH. "We've seen first-hand how this screening saves lives, and are grateful to the American Heart Association for their support and partnership in raising awareness of congenital heart defects."
American Heart Association representatives, volunteers and officials with Mission Foods in Oxnard, this year's local sponsor, visited CMH's maternity ward on Monday May 13 — the day after Mother's Day — to hand out the cute little red hats to new parents who wanted a cap for their newborn. The Little Red Hat Delivery was captured by KEYT News — CLICK HERE to watch the news story!
The American Heart Association anticipated giving out about 800 hats this year at CMH and two other local hospitals. The caps, in cotton or acrylic yarn, were handmade by local volunteers over the past several months, then washed and packaged. "Often we end up more hats than we know what to do with," said Katie Beck, the American Heart Association's regional director for Ventura County.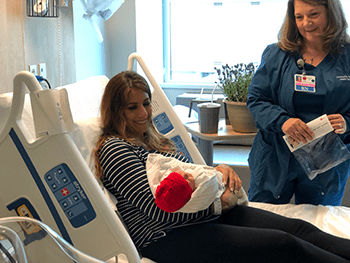 Baby Waylon Wheeler, pictured here with Mom Lisa and nurse Jane, was the first CMH baby to receive a little red hat.
At least 100 people crafted the unisex red hats this year for the local effort. Volunteers knitted them in groups, at home, and at a knitting workshop hosted by Mission Foods, whose employees made about 75 hats to contribute. "Mission Foods also contributed funds toward the effort," said Beck, who noted that the effort was especially meaningful to Mission Foods' marketing director, Denise Junquero, a survivor of a congenital heart defect. "Even more special is the fact that Junquero is pregnant and expected to deliver her baby at CMH this month," Beck said.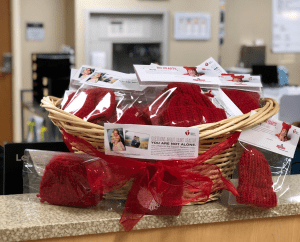 At least 100 volunteers took part in knitting this year's little red hats.
Little Hats, Big Hearts started in Chicago in 2014. From just 300 hats in the first year, the program has now touched thousands of babies nationwide with the Heart Association receiving over 200,000 hats for distribution last year.
So, if you see an infant at CMH or out and about in Ventura County sporting one of those cute little red hats, tip your hat to this baby for being a local ambassador for good heart health.
Learn more at https://www.heart.org/en/get-involved/little-hats-big-hearts.