Families That Play Together Stay Healthy Together
Parents: Plan Some Fun Family Activities this Summer that Include Being Outdoors and Bring Plenty of Healthy Snacks
With school out and the kids home more during the summer break, now is the perfect time for parents to plan some fun family activities that include everyone getting some exercise and eating healthy.
Kids will remember these happy summer days for years to come!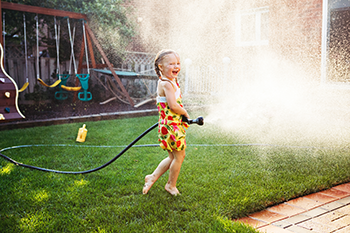 Dr. Daniel Ezroj, a pediatrician at the Community Memorial Health System Premiere Health Center in Santa Paula, would like to remind parents that children enjoy doing fun, active things with their family members. "Kids will remember these happy times for years to come and this will encourage families to establish healthy life-long habits," he said. "We also encourage parents to be more aware of the need to focus on a healthy diet and exercise at younger ages. The younger the kids are, the better."
Dr. Ezroj suggested these fun family activities that get everyone moving:
Take an evening walk around the block.
Take a daytime hike on the weekend. There are plenty of beautiful places around Ventura County for a hike!
Ride bikes in the neighborhood as a family.
Mom and Dad: When you take your kids to the park to play, play with them! Get off the bench and put your cellphone away — put your phone on "time-out" — and go on the monkey bars with your kids! They'll have a blast chasing you around the playground and pushing you down the slide.
Take a family day trip to the beach on a free weekend and swim in the ocean. An hour in the ocean is a really good workout!
Red bell peppers and other crunchy veggies and fruits make great summer snacks for kids!
Don't forget to pack healthy snacks! Kids tend to like crunchy and hot or spicy snacks – but resist the urge to offer them hot Cheetos. Celery sticks, slices of red bell pepper and raw carrots or other veggies provide plenty of crunch and you can add hot sauce for a little heat. "You can also spice up a slice of mango for a crunchy, hot snack," added Dr. Ezroj. Other healthy snack ideas include granola bars (not the ones loaded with sugar), fruits and vegetables, almonds or other nuts, frozen grapes, and pieces of pineapple.
Finally, don't let the kids sit in front of a screen all summer! Limit screen time, especially for younger children.
"Screen time should not be regarded as the norm or something that's always there," said Dr. Ezroj. "It should be more of a reward for when everything else has been taken care of and the kids have been active outside all day and are tired."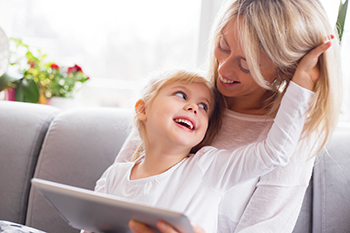 Parents should limit screen time and co-view media with their children to help them understand what they're seeing.
The American Academy of Pediatrics offers recommendations for children's media use:
For children younger than 18 months, avoid the use of screen media other than video-chatting. Parents of children 18 – 24 months of age who want to introduce digital media should choose high-quality programming and watch it with their children to help them understand what they are seeing.
For children ages 2 to 5 years, limit screen use to 1 hour per day of high-quality programs. Parents should view media with children to help them understand what they are seeing and apply it to the world around them.
For children ages 6 and older, place consistent limits on the time spent using media, and the types of media consumed. Make sure it does not take the place of adequate sleep, physical activity and other behaviors essential to health.
Designate media-free times together, such as dinner or diving, as well as media-free locations at home, such as in the bedrooms.
Have ongoing communication about online citizenship and safety, including treating others with respect online and offline. Talk to your kids!
CLICK HERE to read more about the AAP guidelines for media and electronics use.
Premiere Health Center in Santa Paula is located at 258 E. Harvard Blvd. Call 805-948-6353 for more information.