CMH Auxiliary Honors Scholarship Recipients
CMH Auxiliary Honors Scholarship Recipients
Each year in June, the Community Memorial Hospital Auxiliary honors its graduating Junior Volunteers as they finish their high school careers and prepare to take the next step into their futures. On June 10th, Auxiliary members, hospital leadership and some very proud parents gathered to honor two very special Junior Volunteers with scholarships in support of their continued education.
Alyssa Mendoza was awarded the Audrey Woodburn Scholarship for $1500.  Alyssa became a Junior Volunteer in June 2016, and served in the CMH Gift Shop and Maternal Child Health department. Over the last three years, Alyssa accumulated over 550 hours of service to the hospital, and her commitment to our patients and our community earned her 2nd place for Community Service at Foothill Technology High School. With an outstanding 3.5 GPA, Alyssa will be continuing on to Ventura College where she plans to major in Nursing Science. In attendance to present Alyssa with her scholarship was Dr. James Woodburn II, CMH Junior Auxiliary Chair Marilyn Beal, and CMHS Senior Vice President of Operations Adam Thunell.
Trinity Durborow received the Maria Cavallo Scholarship for $3,000.  Trinity has been a Junior Volunteer in the CMH Gift Shop since June 2017 and has over 315 hours of service.  Her academic excellence is evident in her exceptional 4.57 GPA!  While a student at Foothill Technology High School, she also found time to serve as co-founder and secretary of "WE," a student organization dedicated to organizing fundraisers and generating community support. She also worked with at-risk middle school students on a garden project. Trinity received the "Most Achieved Senior" award and will be graduating Summa Cum Lade. Next year, she will attend the University of California, Berkley, where she will major in Public Health with an emphasis on global and reproductive health.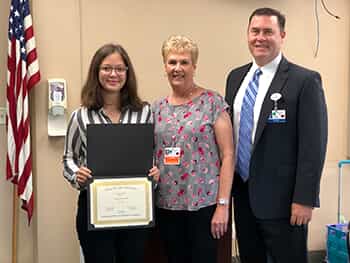 Trinity Durborow received the Maria Cavallo Scholarship. She's pictured here with CMHS Senior VP of Operations Adam Thunell and Junior Volunteer Chair Marilyn Beal.
"It has been an absolute pleasure working with you both," said Helen Bagley, CMH Gift Shop Director. "We are so grateful for your service to this hospital, and are going to miss having you here with us!"
Founded on a tradition of service, the CMH Auxiliary is an organization whose mission is to augment the programs and services of Community Memorial Hospital in Ventura, a not-for-profit organization.  Auxiliary members are men, women and students from varied backgrounds who share a common interest in helping others and providing comfort and assistance to patients and their families. Junior Volunteers are between the ages of 14 and 18. CLICK HERE to learn more about becoming a Junior Volunteer or an Auxiliary Member.