Celebrating Our New Community Memorial Hospital
On Tuesday December 11, 2018, hundreds gathered from communities across Ventura County to celebrate an incredible gift — our new Community Memorial Hospital in Ventura! Illuminated against the evening sky and adorned with festive bows, the facade of our new Ocean Tower formed the backdrop for a special evening that drew community leadership, board members, physicians, staff, donors and key stakeholders together to commemorate the beginning of a new era of healthcare in Ventura County.
With overwhelming community support, Community Memorial Health System began construction on the six-story, 355,000 square foot facility in 2011. The BECAUSE Campaign raised over $25 million from local corporations, businesses, and individuals in support of the new hospital and the new Continuing Care Center on the campus of Ojai Valley Community Hospital. The impact of this level of community support – the largest successful philanthropic capital campaign in the history of the community — was a significant theme at the celebration of the new hospital.
The evening opened with a welcome from Community Memorial Health System (CMHS) President and CEO Gary Wilde, an invocation by Rev. Curtis Hotchkiss, CMHS Director of Spiritual Care, a Presentation of Colors by Boy Scouts representing Ventura County Council BSA and an address to the community from City of Ventura Mayor Matt LaVere.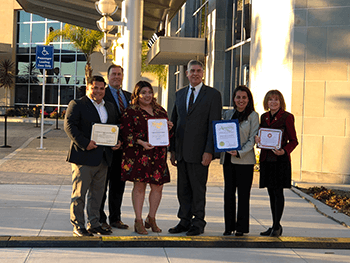 Representatives and leaders from local and state government attended the event to present certificates of recognition acknowledging the new hospital.
"I am extremely grateful to Gray Wilde, the board members, and everyone involved in bringing this new hospital to Ventura," said LaVere. "A better Community Memorial Hospital means a better Ventura."
Richard Rush, PhD, Chair of the CMHS Board of Trustees, Lamar Bushnell, MD, CMH Chief of Staff, and Leslie Leavens from Leavens Ranches also offered remarks, expressing excitement for a new era of healthcare in Ventura County and reflecting fondly on memories, medical progress, and miracles witnessed in the old hospital, now known as the Mountain Tower.
"The first CT scanner west of the Mississippi River was installed in the Mountain Tower," remembered Dr. Lamar Bushnell, Community Memorial Hospital Chief of Staff. "The first non-academic robotic surgery program between Los Angeles and San Francisco was started here, and just last year a baby was born in the Mountain Tower that weighed under a pound. That baby has since graduated from our neonatal intensive care unit and gone home with his family."
"My professional career really did grow up in the Mountain Tower," continued Bushnell. "And so much of what has come before us is part of this new hospital."
As the program seemed to be coming to a close, event attendees were treated to a surprise choral performance of "Let Me Be There" by the Gold Coast Concert Chorus. The "flash mob" style number began with individual choir members rising from scattered seats in the crowd and making their way through the audience. The musical number culminated with roughly 40 singers coming together on the event stage.
A series of ribbon cutting photos took place after the event. Hospital leadership, local dignitaries, key hospital contributors, physicians, employees, volunteers, contractors, sub-contractors, and Ocean Tower vendors took part in photos and then enjoyed refreshments in the Ocean Tower Dining Room.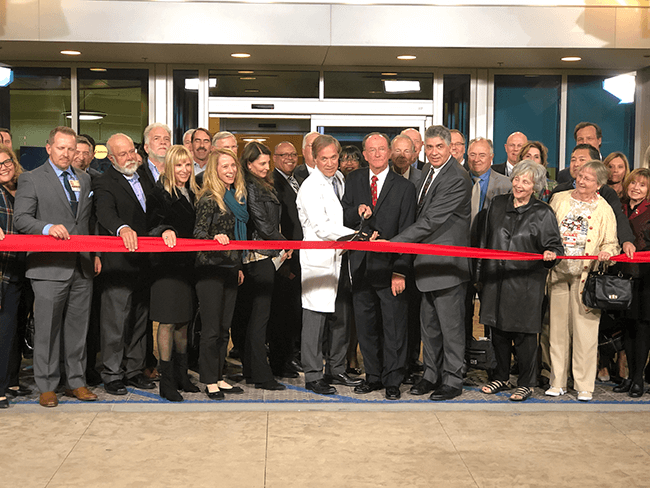 Surrounded by hospital administration, local and state dignitaries, and key hospital contributors, CMHS President & CEO Gary Wilde, CMHS Board of Directors Chair Richard Rush, PhD, and CMH Chief of Staff Dr. Lamar Bushnell cut the first celebratory ribbon in front of the new Community Memorial Hospital.