CMHS Care Connections Program Offers Special Help for Those Managing Chronic Conditions
Nurses with the CMHS Centers for Family Health Help Patients Stay on Track
Sometimes people with chronic illnesses need a little help managing their conditions: Understanding their medications, scheduling visits with specialists, and coordinating their care. At times it can seem overwhelming to navigate the healthcare system when you have complex healthcare needs.
Community Memorial Health System can help! Through its Centers for Family Health, CMHS offers a Care Management Program and a Chronic Care Management Program for high-risk patients with complicated healthcare needs. Both programs are similar but serve different groups of patients, and they share the goal of helping patients get better care!
"It's really nice to have a nurse that calls you and checks in and can help you in between doctor visits," said Kristine Supple, CMHS's director of Population Health, Ambulatory Medicine. "Patients feel more empowered about managing their conditions when they know someone has their back."
The Care Management Program is for high-risk patients with complex care needs who are having difficulty meeting their healthcare goals, including those who have frequent hospital admissions and chronic medical conditions like diabetes. Care coordinators help these patients with an individualized care plan, set health goals, help monitor their conditions and medications, and connect them to other community resources.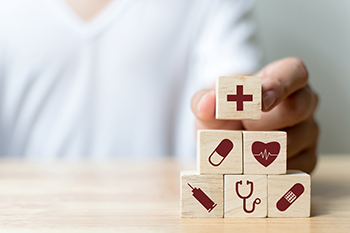 Patients with chronic, complex conditions often need support putting all the pieces of their care together.
Chronic Care Management is for patients with Fee-For-Service Medicare who have two or more chronic conditions, like diabetes or hypertension. This program is comprised of a group of healthcare professionals with the Centers for Family Health who are dedicated to working with the patient's doctors to make sure they get the best care as well as access to services.
Patients must be referred by their primary care provider to enroll in these programs. Anyone who feels they need extra help is encouraged to ask their doctor for a referral. Once a patient is accepted, a nurse from one of the centers will contact them to talk and get them started. Each patient will have regular phone contact with a nurse in the program to keep in touch and receive help.
Chronic Care Management has many benefits for patients. They include:
Creating a stronger relationship and better communication with doctor's offices
Helping educate patients about chronic conditions
Medication review and education
Coordination of care, which includes helping to get notes from consultations with specialists, emergency room reports, hospital records and diagnostic reports
Helping patients and caregivers manage medical conditions
Services include:
Personalized care plans
Phone check-ins between visits to keep you on track
Goal setting with regard to weight management, proper nutrition and physical activity
Chronic disease self-management, monitoring and education
Coordination and scheduling of preventative healthcare needs
Connecting patients to community resources
CARE CONNECTIONS also offers disease management services, specifically for conditions like diabetes, hypertension and obesity. If you or someone you know would like to learn more about the Care Connections program, please call 805-948-3059.