CMHS Team Members Attend High-Level Emergency Response Training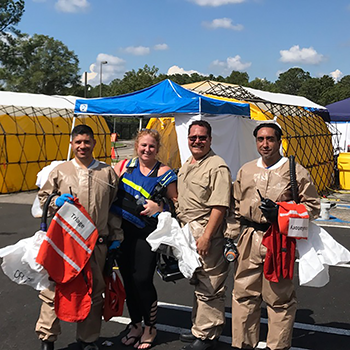 If a major emergency happens in Ventura County, Community Memorial Hospital (CMH) in Ventura and Ojai Valley Community Hospital (OVCH) are more prepared than ever, thanks to a specialized three-day training session recently completed by Community Memorial Health System (CMHS) team members.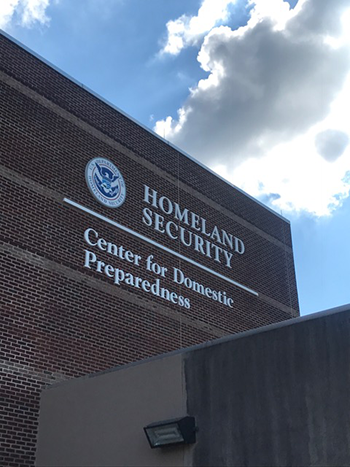 The HERT training took place at the Center for Disaster Preparedness in Anniston, Alabama.
Six CMHS Registered Nurses (RN), Emergency Medical Technicians (EMT), and clinical leaders took the Hospital Emergency Response Training for Mass Casualty Incidents (HERT) course in early October, which addressed the healthcare response at the operations level for a facility and its personnel. The course prepares healthcare responders to use the Hospital Incident Command System and to integrate into the community emergency response networks while operating an Emergency Treatment Area as hospital first responders in a mass casualty incident involving patient contamination. As members of a Hospital Emergency Response Team, the healthcare responders determine and use appropriate personal protective equipment and conduct triage followed by decontamination of ambulatory and non-ambulatory patients.
The hands-on training also helps responders learn to prevent, respond to, and recover from real-world incidents involving acts of terrorism and other hazardous materials. Those who attended learned to plan for, prevent, protect, respond to, and recover from chemical, biological, explosive, radiological, or other hazardous materials incidents.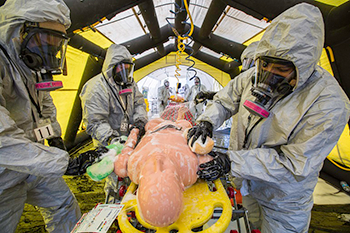 HERT training participants took part in a number of exercises including the decontamination simulation pictured here.
The training was offered by the Center for Domestic Preparedness (CDP) in Anniston, Alabama. The CDP is operated by the Federal Emergency Management Agency (FEMA) and is the only federally chartered Weapons of Mass Destruction training facility nationwide. The training was conducted at the Noble Training Facility, a converted former Army hospital and the only hospital facility in the U.S. that trains hospital and healthcare workers in disaster preparedness and response.
CMHS staffers who completed the program were Jamie Brady, RN, an OVCH Emergency Department staff nurse; OVCH Emergency Department Supervisor Kari Worden, RN; Ed Pulido, RN, Ojai's Director of Nursing; Athena Kahler, RN, an Emergency Department nurse at CMH; Christian Ortiz, RN, a CMH Emergency Department Clinical Supervisor; and Eddy Hernandez, CMH's lead Emergency Department EMT. All who attended said the training was a worthwhile experience.
"Not only do I have a better understanding of Hospital Emergency Response Team, but I built relationships and networked with other professionals in my field," said Kari Worden, RN. "I have never been to a training that was so well organized. I had nothing to distract me from the training and learning, and I can't say enough about the professionalism of the instructors. They were engaging, and knowledgeable in the subject matter, and brought the group of students together. I left the training inspired to teach and share the information I learned with my staff and coworkers."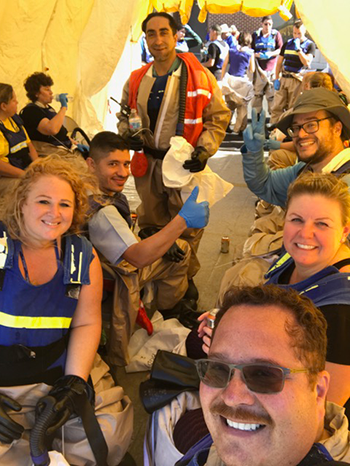 (L-R) Athena Kahler, Christian Ortiz, Eddy Hernandez, Jamie Brady, Kari Worden, and Ed Pulido
Jamie Brady said the training brought to light just how many responders would be needed in a real emergency and what the important aspects of operations would be from a CMH and OVCH perspective. "This training stressed how important everyone is," he said. "It takes more than just clinical staff to deliver high-quality care and security for staff, patients, and our facility. This training gave me the tools to use non-clinical members of our team much more constructively. I also feel like our CMHS team bonded through the event and that our hospital staff members are better trained and better prepared for any future crises that might come to Ventura County."
Athena Kahler also came away from the training very enthusiastic about what she learned. "I felt like I had a basic knowledge when I arrived, but by the time we left, I felt that I was prepared. The lectures were thorough and engaging. The drills were great and I loved how fluid and efficient the set-up was. I feel very confident in my ability to bring this knowledge back to my coworkers."
The Center for Domestic Preparedness develops and delivers advanced training for emergency response providers, emergency managers and other government officials from local, state, and tribal governments. Over 40 training courses on incident management, mass casualty response, and emergency response to a catastrophic natural disaster or terrorist act are offered at the CDP facility, with all costs for attendees paid for by FEMA.