Cancer Resource Center Nurse Navigator Honored with Daisy Award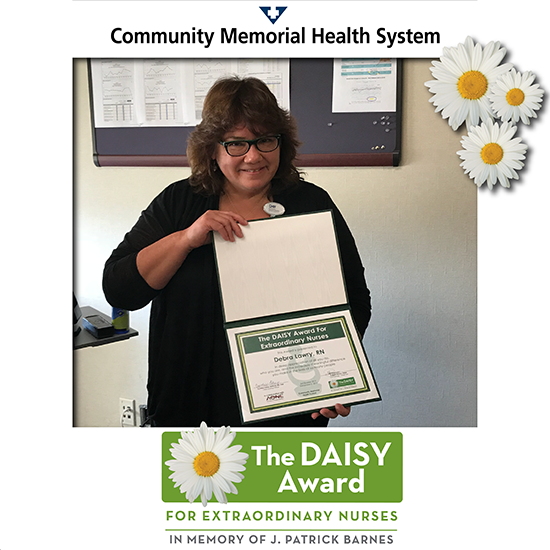 Community Memorial Health System is proud to announce our 2017 3rd Quarter DAISY Award winner – Debra Lawry, RN!
Created in 1999, the DAISY Award is a very special recognition that honors extraordinary nurses who demonstrate clinical expertise, provide skillful, compassionate care, and go above and beyond for patients and family members.
Every day, Debra Lawry holds the hands (literally and figuratively) of patients who have just been diagnosed with cancer. In her role as Cancer Patient Nurse Navigator at the Community Memorial Health System Cancer Resource Center, Debra guides patients through the diagnosis, treatment, and cancer recovery processes, and serves as a vital source of education, support, and friendship along the way. She goes above and beyond for her patients, often attending appointments with them and spending extra time ensuring they feel truly supported on their cancer treatment journey.
Many patients have called Debra their "angel," and have said they aren't sure how they would have gotten through treatment without her. But it's not just patients that she impacts on a daily basis. Debra is always willing to provide her co-workers with education or moral support and works hard to broaden her knowledge so she can provide the latest and most accurate information to patients and coworkers.
Debra was honored by health system leadership, physicians, and her peers last week with a celebration at Community Memorial Hospital in Ventura. Please join us in congratulating her on this incredible achievement and thanking her for her service to our patients!
If you would like to nominate an extraordinary nurse from Community Memorial Health System for providing exemplary care, please visit our DAISY Award nomination page by clicking here.